Answering the Big Mommy Makeover Questions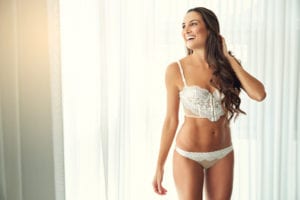 There is no denying that a certain amount of confidence is found in how we look. Most people have at least one aspect of their appearance that they love, and maybe a few they wish were a little better. For mothers, this may feel like a tug-of-war on their emotions. It is not only possible but fully normal for a mother to find great joy in her role and also to wish she had a more "non-motherly" body. This is why mommy makeover procedures are so popular. If you've been considering how a mommy makeover might make you feel, we're sure you have some questions. The Big Ones include what to do before surgery and what to expect after. We'll discuss both here.
Before Your Mommy Makeover
The very first thing to do if you'd like a great mommy makeover experience is to devote as much time as needed to find the plastic surgeon you feel most comfortable with. Tips: only research board-certified plastic surgeons with whom you can have contact before and after surgery. Also, look at reviews and testimonials. Finally, schedule a consultation with at least two plastic surgeons who have met your other criteria.
Make your health a priority. The more you can rest before your surgery, the better. The more healthy foods you consume before a mommy makeover, the better. The faster you can quit using tobacco, if you do, the better. Nicotine, in particular, constricts blood flow and can impede healing. Alcohol, on the other hand, can increase bleeding risks so should be avoided before surgery.
Arrange time off. Most surgeons recommend about two weeks for the best recovery. After this point, it may also be helpful to ease back into normal activities like a full-time job or full-time mommy-duties.
Arrange help. We cannot overstate the value of good, supportive help after a mommy makeover. In addition to having someone to keep you company, you will need a cook, a children's companion, a pet sitter, and a personal caregiver to help you with just about everything for a few days.
What to Expect After a Mommy Makeover
Most patients do not remember the day of surgery. This is due to anesthesia and, once they are back home, their pain medication.
Expect emotions to change quickly. Many patients report that they cry very easily after surgery (not just mommy makeovers) and that their emotions range from very happy to crying faster than they may feel prepared. This is a normal stress response to surgery and it will go away as you regain energy.
Back pain and constipation are two side effects that may occur and should be anticipated. Both can be managed with proper medications and should resolve within a week to 10 days.
Rancho Mirage is a wonderful place to come for plastic surgery like a mommy makeover. Dr. Lombardo is an excellent plastic surgeon who provides personal, compassionate care to patients from our area and who travel here for her services. To learn more, call (760) 610-8990.
Posted in: Mommy Makeover
Leave a response