Arm Lift
In Rancho Mirage CA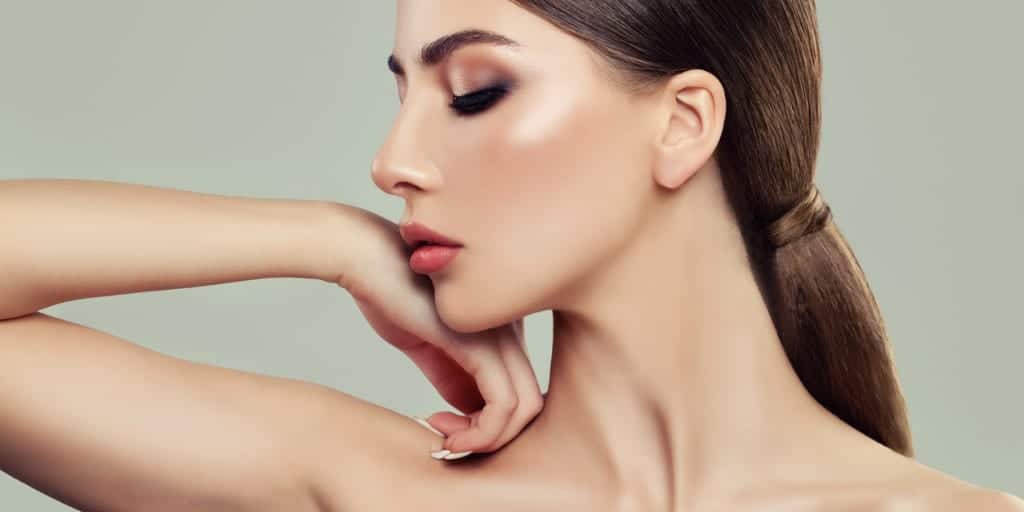 Gravity isn't the friend of any part of our aging bodies. But certain areas can rely on underlying bone and muscle for support. Not the underside of the upper arms. The constant downward pull of gravity combined with the natural slackening of muscle and support tissue can leave a person with upper arms that hang. They can actually swing back and forth with movement. It can make a woman avoid wearing sleeveless blouses or dresses. Fortunately, Dr. Lombardo can perform an arm lift in Rancho Mirage to return contour to your upper arms.
What is an arm lift?
Clinically known as brachioplasty, an arm lift reshapes the upper arms to a more toned, slimmer profile. The goal of this surgery is to tighten and remove stretched, hanging skin on the upper arms. This effectively removes the extra skin and with it the effect colloquially known as "bat wings" where the skin flaps back and forth with movement.
How is an arm lift done in rancho mirage?
This procedure involves a lengthy incision. That is unavoidable due to the length of the upper arm. For most patients, Dr. Lombardo makes an incision on the underside of the upper arm, running from the underarm to the elbow. Through this incision, she is able to remove excess fat pockets with liposuction. She repositions and tightens the underlying tissue, and trims away excess skin.
In some cases where a patient doesn't have extensive sagging skin, Dr. Lombardo may be able to use a minimal-incision technique. In this technique, she makes a small incision near the underarm, in lieu of one long incision on each arm. As you would assume, while this method does create a much more manageable scar, it doesn't allow the same degree of tightening. For most patients, this more limited approach cannot deliver the tightening needed.

View More Before And After Photos
Would I be a good candidate for a brachioplasty in Palm Springs?
There are a few reasons some people develop looser upper arms than others. If you've gained and then lost a good deal of weight, this has likely stretched the arm skin. This area is notorious for not being able to tighten back down after the skin has been stretched. Some people can blame genetics; they are prone to the skin and muscle loosening more than others.
Is this a good procedure for you? That depends on how you feel about your upper arms. If the loose skin and muscle on the underside of your upper arms moves back and forth when you shift your arm, an arm lift could correct that. If you've consciously been avoiding showing your upper arms because of the loose skin then this could be a good surgery for you.
It is important for a candidate to be at or near her ideal weight. This procedure is not intended for weight loss. In fact, if you gain and lose a fair amount of weight after having an arm lift, you can develop loose skin all over again.
It's also important to consider that this procedure creates a lengthy incision. The scar lightens quickly and becomes far less visible, but it will still be there.
Recovering from Brachioplasty In Palm Springs
You'll return home after surgery with bandages You'll be given compression garments for both arms to minimize swelling and help your arms adapt to their new contour. There will be swelling, due to the tissue repositioning, but it should be gone in around two weeks. Within one to two weeks you can return to work, but special care has to be taken to avoid much lifting and strenuous activity with your arms.
Is arm lift surgery painful?
Any surgical procedure involves some pain. Medication and ice can make it more comfortable. Pain is manageable and the area tends to heal quickly. The compression garment provides support and typically needs to be worn for 3 weeks.
How should I prepare for an arm lift?
There isn't much you need to do to prepare for your arm lift with Dr. Lombardo. You'll need to stop taking any blood thinners, anti-inflammatory medication, and many supplements for one week prior to your surgery. If you smoke, you'll need to stop for at least two weeks before and after your surgery, as smoking can interfere with your healing.
The main aspect that may need attention Is lifting. The key to a successful recovery is to avoid lifting much with your arms. As you would assume, lifting too much weight can strain your incisions and create complications. So, if you need to lift things around the house that are more than the weight of a gallon of milk, you'll need help with that. The same is true if you need to lift items at work. It will be between 4 and 6 weeks before you can lift heavy objects once again.
How long does an arm lift take?
These procedures take from 1 to 3 hours with Dr. Lombardo, depending upon the amount of loose skin and fat that need to be removed. For instance, if the patient doesn't have extensive loose skin, Dr. Lombardo may use a minimal-incision arm lift that uses a few small incisions near the underarm rather than one long incision on each arm, and this makes the procedure simpler.
What results can I expect from an arm lift?
An arm lift removes loose excess skin, tightens underlying muscles that have slackened, removes fat that is weighing down the skin, and generally returns the upper arms to how they looked in younger days. This gives you back the confidence to wear sleeveless fashions, spaghetti strap dresses, and the like.
Are my results from an arm lift permanent?
The changes made by Dr. Lombardo with your upper arms are permanent. The excess skin she trims is gone for good, as is any fat she removes. She'll tighten support muscles as needed. These changes are permanent.
That doesn't mean you won't have some slackening as you continue to age. But if you don't gain and then lose a good deal of weight, your upper arms will never again become loose to the degree that predicated coming in for this surgery.
When can I get back to my normal activities after an arm lift? Driving?
Patients can usually return to work in just a week or two. Obviously, this varies with the individual patient. If your work involves lifting, you'll have to have others do that for you. It will be about 10 days before you can drive. For the first week, you should limit activity to just walking. Dr. Lombardo will discuss this during your consultation, but you do really need to be careful about not lifting items too soon. This is not the time to "push" your recovery.
When can I return to working out?
For the first month, you need to avoid any exercises that directly stress the area and engage your upper arm muscles. This involves all weight lifting with the arms. After one month you can start cardiovascular activity, such as riding a stationary bike or brisk walking. You still need to wait on lifting or contact sports, however, for another two weeks. At six weeks you should be able to return to your normal exercise routines.
Will I have excess skin after an arm lift?
If a patient has liposuction done on her upper arms without the full surgery of an arm lift, the danger is that the loose, hanging skin will only become more obvious. That's why Dr. Lombardo performs these procedures with a combination of excision of loose skin, some liposuction, and tightening of support muscles. Removing the fat alone won't work, as the skin has been stretched for too long and will not tighten back down once the fat is removed.
After an arm lift with Dr. Lombardo, your upper arms will be firm, taut, and look more akin to how they did in your younger days or before the gain and subsequent loss of extensive weight.
How can I maintain my results from my arm lift?
There are two things you'll want to do to keep your newly slimmed upper arms looking great. First, you'll want to maintain a healthy weight. Excess weight is the main reason the upper arms develop their loose, flapping appearance, as the skin becomes over-stretched and loses its elasticity. If you maintain a healthy weight, your upper arms will stay firm and tight. Sure, there will be some loosening as you age — that's inevitable — but it won't create the looseness and flapping skin you had that brought you to Dr. Lombardo in the first place.
Second, you'll want to do some weight work with your arms and upper body. This is good as we age, regardless of if you've had this surgery or not. By strengthening your arms and upper body, your arms will develop more definition, and this will accentuate your new slimmer contours.
risks Of The Procedure

This is a surgical procedure, so it involves the same risks as with any surgery: excessive bleeding, poor wound healing, potential infection, and the like. Otherwise, this is a low-risk procedure. The upper arms involve large muscles and limited nerve exposure, so tightening the area up is a relatively straightforward procedure. Dr. Lombardo's patients are very satisfied with their results from her arm lifts.
What People Say About Us!
Dr. Lombardo was so wonderfully pleasant, and one of the best experiences you can have with a Doctor. She was attentive and caring to my needs while giving me the best medical advice. Lovely staff & facility too.
Click here to read more reviews.