Lip Augmentation | Serving Rancho Mirage, Yucca Valley & Palm Springs


Lip augmentation is used to enhance lips that have thinned due to age or are naturally thin. The results are fuller, plumper lips that look completely natural. There are many different lip fillers used in lip augmentation procedures today. Collagen lip injection is the most familiar method but hyaluronic acid fillers are rising in popularity. Restylane®, Perlane, JUVÉDERM® are all viable options for lip enhancement. All of these injectable increase the volume of the lips and can reduce the appearance of upper lip wrinkles and "smoker's lines." Results do not last forever; upkeep may be required.
For patients with advanced signs of aging, lip implants may be recommended. This is a surgical procedure that delivers more noticeable and more permanent results than fillers.
What fillers are used for lip augmentation?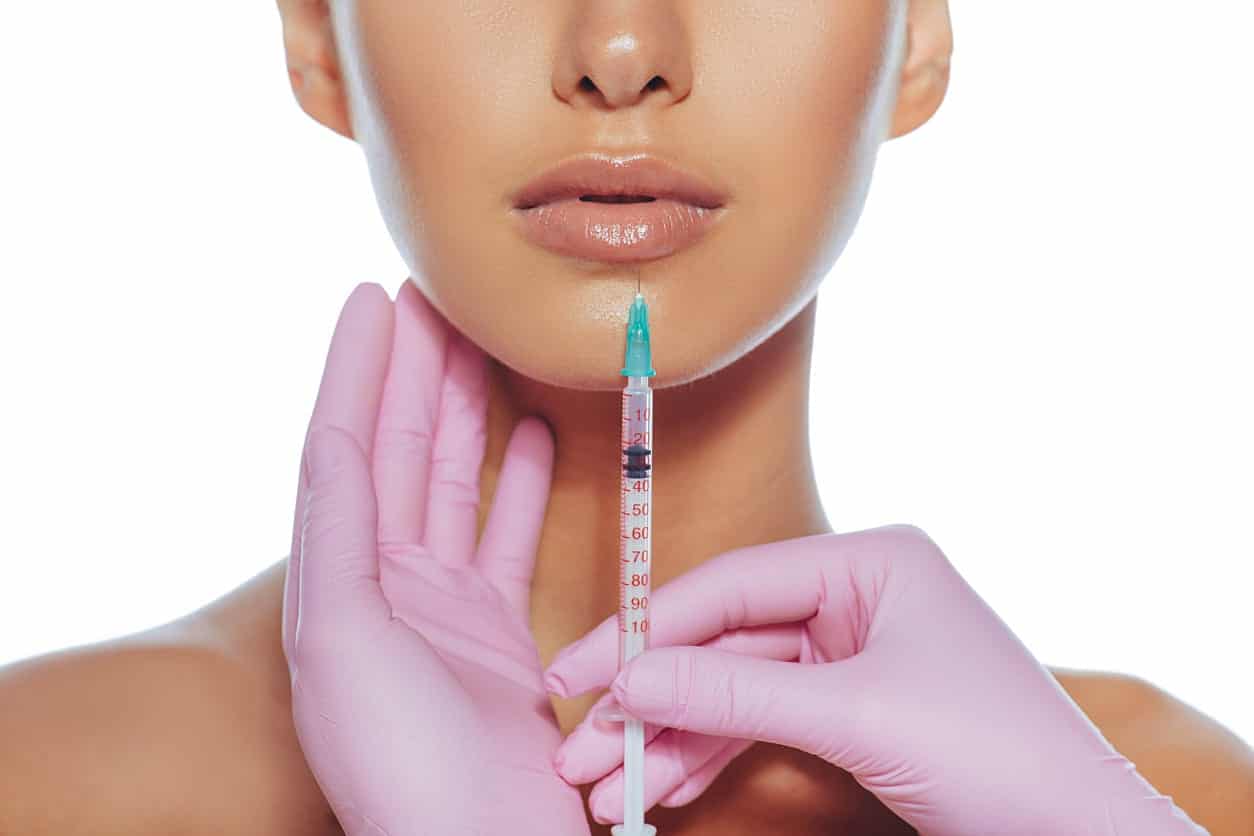 For most patients, Dr. Lombardo uses hyaluronic acid dermal fillers for lip augmentation. But she also uses collagen or the patient's own fat, if desired. She likes hyaluronic acid because it is a naturally occurring substance in the human body whose job is to firm and plump the skin. It does so by combining with water molecules at the injection sites. These fillers are easy to work with and results can be finely tuned. Augmentation with fat is more difficult to precisely control, as you cannot be sure how many of the injected fat cells will successfully take.
These are the hyaluronic acid fillers Dr. Lombardo uses for lip augmentation:
Juvéderm® is a large family of dermal fillers; two are used for lip augmentation, Ultra XC and Volbella XC. Juvéderm® Ultra XC is intended to visibly plump the lips. Ultra can add definition to the borders and fill volume throughout.
Volbella XC was added in 2016 as a subtler alternative to Ultra. While Ultra provides significant volume to the lips, Volbella is formulated to add subtle volume and to smooth lip lines. Volbella creates natural looking results that aren't as dramatic.
Like Juvéderm®, the Restylane® family of dermal fillers has also been expanding. Restylane® Silk is specifically formulated for lip augmentation and for filling vertical lip lines. Compared with the other Restylane® fillers, Silk is formulated with smaller hyaluronic acid particles, making it perfect for plumping and adding volume to the lips, but not in an overly showy way.
What are some lip features that can be changed with dermal fillers?
Dr. Lombardo's goal with lip augmentation is unique to each patient. You may want to erase some vertical lip lines. Or you may want to make your lips more symmetrical. Or maybe you simply want plumper, more kissable lips!
These are some specific areas Dr. Lombardo considers with lip augmentation:
Cupid's bow — This is the name of the area in the middle of your upper lip. This is thought to be the focus of the lips, and Dr. Lombardo adds definition.
Center fullness — Signature lip beauty means they are fuller in the center, tapering off at the corners.
Profile projection — When viewed from the side, your upper lip should project slightly above your lower lip.
Side-to-side symmetry — Augmentation can balance asymmetrical lips.
Ideal Candidates for Lip Enhancement
Ideal candidates for surgical lip enhancement have:
Thin lips
Lips that lack definition or volume
Lips that are disproportionate to the rest of the face
Candidates seeking injectable lip fillers should:
have thin lips
have a defined "cupid's bow"
have significant showing of the red portion of the lip
Is there anything I need to do to prepare for lip augmentation with fillers?
No preparation is necessary for filler injections.
Lip Augmentation Procedure
Lip enhancement using fillers is a quick, outpatient procedure that is done in our office. A numbing agent is applied to the lip area so you won't feel the injections. Then, the lip filler you've chosen is injected into the lips. You won't experience any side effects other than some swelling and bruising, which subsides within a few days. Most people don't even need to adjust their day-to-day schedules after receiving lip enhancement with fillers.
Lip implants require local anesthesia or sedation as well as incisions. These incisions are located in natural creases where scars will be less noticeable, such as the base of the nose or at the lower and upper borders of the lip. After the implant has been placed, the incision site is sutured closed both internally and externally.
How many lip augmentation procedures will I need?
Whether she's using Juvéderm Ultra XC, Juvéderm Volbella XC, or Restylane Silk, these are all meant to be single treatments. You don't need to return for additional sessions in a series. Your results are fully realized after a single injection session.
How long does a dermal filler lip augmentation session take?
When injecting dermal fillers, these sessions with Dr. Lombardo typically take from 30 minute to one hour. Your results are immediate.
What are the risks involved with dermal filler lip augmentation?
The main side effect/risk with lip augmentation is redness and swelling at the injection sites. This usually lasts a day or so but is not severe. There can also be some mild bruising, but it can easily be covered with lipstick or makeup. To minimize any swelling or bruising, gently icing your lips immediately after your session is helpful. There is a chance of developing lumps, but that is rare and can be reversed immediately with an injection of an enzyme that neutralizes the hyaluronic acid.
Lip Augmentation Recovery
Recovery time for injected lip fillers is minimal. The lips may be sore, swollen and bruised after the procedure. Swelling should subside within 3 days with bruises taking up to a week to disappear.
A recovery time of 1 to 2 weeks is normal for lip implants with sutures being removed around Day 5. You will need to take special care cleaning around your lips during this time.
How long will my results last from lip augmentation with dermal fillers?
Juvéderm® Volbella and Ultra will add volume and shape to your lips for up to one year. At that point, the body will fully absorb the hyaluronic acid and your results will begin to flag. Restylane® Silk lasts around six months.
Cost of Lip Augmentation
Costs for lip augmentation vary depending on the specific procedures performed and the amount of filler required to achieve the desired outcome. Dr. Lombardo offers a free in-office consultation and price quote after assessing your individual needs and goals. To schedule your free consultation, call our office at: (760) 610-8990.
Schedule a Client Consultation
Contact Lombardo Cosmetic Surgery in Rancho Mirage today to learn more about lip augmentation where we serve greater Palm Springs & Palm Desert areas.