Hand Rejuvenation
in Rancho Mirage, CA
As we get older, we tend to be fixated on the signs of aging on our faces. But there's another area that is probably showing your age far more, and it's right there in front of you on the table — your hands. Our hands, thanks to their constant exposure to the sun and environment, coupled with the volume loss that is a part of aging, can make you look far older than your actual age.
Dr. Lombardo offers a variety of treatments that can rejuvenate your hands: dermal fillers, chemical peels, and fat transfer. Let's see which one is right for you.
Contact Us Today For A Consultation
Patient Testimonials
"Excellent Experince
My results were flawless I'm more then happy with the results and can't wait to go back!"
"Dr. Lombardo truly is an artist. She is an expert at making you look better without making you look like you've had "work done"."
View More Patient Testimonials
What is the goal of hand rejuvenation?
There are really two aspects to our hands that can make them look so old: loss of volume and darkened age spots due to sun damage. Rejuvenation treatments, such as the use of dermal fillers, address one or the other. That's why we offer three different approaches to Lombardo Cosmetic Surgery.
Would I be a good candidate for hand rejuvenation?
If these descriptions sound like your hands, we can help: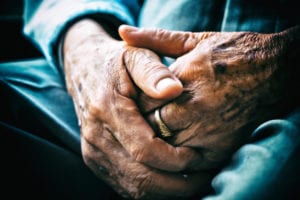 Your hands have prominent veins and tendons due to volume loss
Your hands are wrinkled and thin
Your hands have age spots all over them
Your skin tone and color are blotchy due to sun damage
How does Restylane Lyft work for hand rejuvenation?
Restylane was the original dermal filler, first approved by the FDA in 2003 for the treatment of nasolabial folds and other lines and creases on the lower face. Since those days, the Restylane line has expanded. Restylane Lyft was added and approved by the FDA in July 2015 for cheek augmentation and mid-face flattening. Then in 2018, Lyft became the first hyaluronic acid dermal filler approved for use outside the face when the FDA approved it for treatment of age-related volume loss in the back of the hands.
On the back of our hands, a combination of fat volume loss, declining collagen production in our skin, and atrophy of the intrinsic muscles of the hand due to aging all work together to make the tendons, veins, and metacarpal bones overly prominent.
Restylane Lyft is a hyaluronic acid dermal filler. Hyaluronic acid is a naturally occurring substance in the human body that is responsible for hydrating, plumping, and firming the skin. It does this by binding with nearby water molecules.
To return the volume to the hands, Dr. Lombardo injects Restylane Lyft subcutaneously. This means she injects it under the skin, but above the connective tissue that covers the tendons, bones, vessels, and nerves on the back of the hands. When she injects Lyft, the hyaluronic acid binds with available water molecules and instantly returns hydration and volume, noticeably changing the appearance of the back of the hands for up to six months.
How do chemical peels work for hand rejuvenation?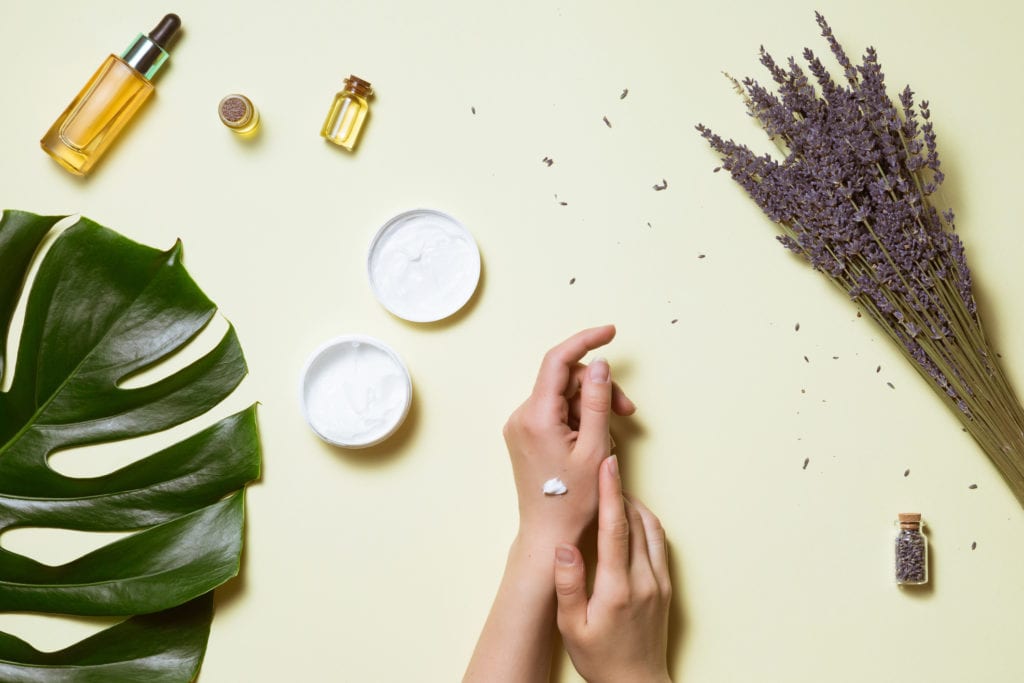 The goal of a chemical peel is to remove the damaged, unhealthy outer layer of skin on the epidermis and replace it with younger, fresher skin. Long performed on the facial skin (Cleopatra used sour milk/lactic acid for chemical peels), more recently peels are being used to rejuvenate the hands. Peels are topically applied formulas that revitalize the skin surface by creating an even and controlled shedding of the skin cells, a forced exfoliation if you will. This allows new layers of younger, undamaged skin to be exposed, smoothing texture and showing a refreshed appearance. Peels also peel away discolored, sun-damaged spots.
Dr. Lombardo has had good success with trichloroacetic acid (TCA) chemical peels. The skin on the back of the hands is first cleaned, and then the TCA solution is applied. It is left on the skin until it penetrates to the correct depth to trigger the skin to slough off old, damaged cells.
After your peel, the damaged spots darken, and the back of your hands will look slightly bronzed due to the TCA. This fades within an hour. Over the next few days, the skin on your hands will feel somewhat tighter, and age spots will darken. Light peeling begins around day three but isn't overly visible and can be managed with moisturizer. After six or seven days, the peeling is complete and healthier, fresher skin is exposed.
How does Radiesse work for hand rejuvenation?
Radiesse is another dermal filler we use on the hands at Lombardo Cosmetic Surgery. It works in a different manner than Lyft. Radiesse was approved for use on the hands in 2015.
Radiesse has two methods to boost volume. The filler is made of calcium hydroxylapatite microspheres suspended in an aqueous gel. When injected into the back of the hands, Radiesse spreads out and the combination of the gel and the calcium microspheres plumps the area. The microspheres actually help re-create some of the structural support frameworks that formerly were provided by collagen. The secondary effect of Radiesse is collagen production. As the body absorbs the calcium microspheres, increased collagen production is triggered in the injection areas. This new collagen goes to work creating the structural framework to hide much of the volume loss.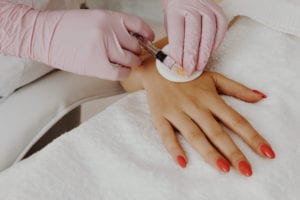 Like Lyft, Dr. Lombardo injects Radiesse under the skin, but above the connective tissue that covers the tendons, bones, vessels, and nerves on the back of the hands. It works in its two phases to return volume and plump the skin, covering the tendons and such.
---
How does fat transfer work for hand rejuvenation?
Dr. Lombardo also uses fat transfer, sometimes called fat grafting, to rejuvenate the hands. In these treatments, a small amount of the patient's fat is taken, usually from the inner thigh. The fat is then purified, removing any liquids.
To prepare the backs of the hands, Dr. Lombardo makes a few small incisions on the back of the hand. Through these incisions, she gently makes room for the fat, then she injects small amounts of fat into these small incisions. After injection, the fat is gently massaged to create a smooth contour, filling in the deflated appearance and masking the bones and veins.
Fat transfer is a more involved procedure than simply injecting a dermal filler such as Lyft. But it has more longevity. Fat cells, once they attain blood supply, can take permanently in their new location. One problem with fat transfer, however, is that you cannot be sure which cells will take and which will be absorbed by the body.
Hand Rejuvenation – Before & After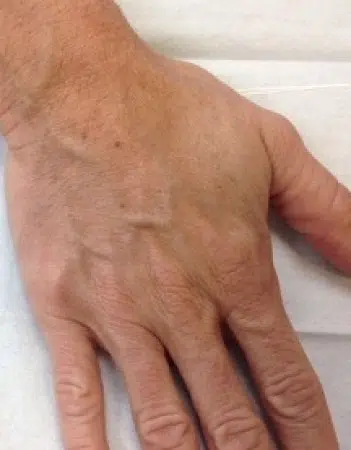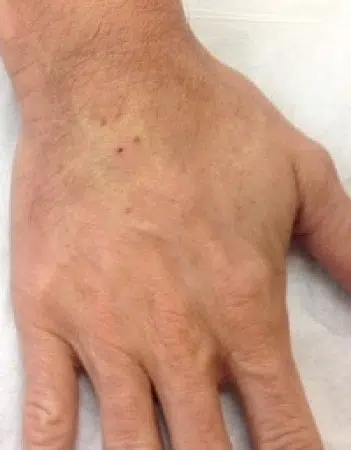 View More Before & After Photos
What are the benefits of hand rejuvenation?
If your hands have that deflated, skeletal look that is a hallmark of volume loss, sun damage, and aging, you could really benefit from any of these procedures. If volume loss is your main concern and you want to mask those protruding tendons and veins, injections of Lyft or Radiesse are easy and effective. Fat transfer is more involved, but it also is much more enduring. Repeated filler injections tend to continue to increase their lifespan in the hands, though.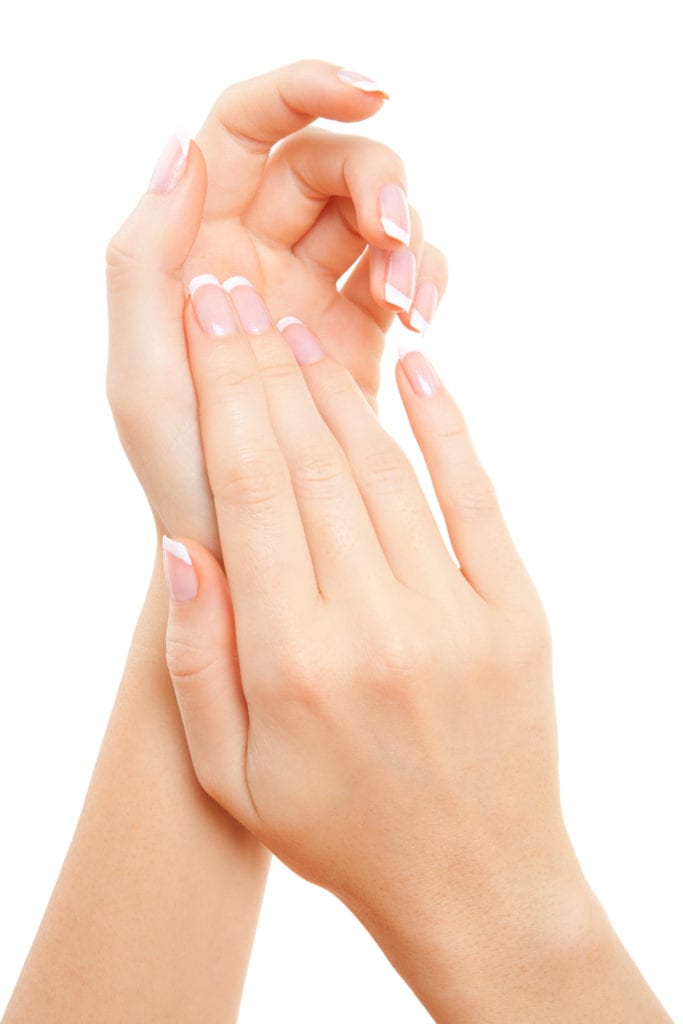 If you could play connect the dots with the age spots on your hands, chemical peels can get your body to shed that old, beat-up skin and reveal younger, far less mottled skin.
Or, if you have age spots and volume loss, Dr. Lombardo can combine treatments.
Regardless of the methods, after hand rejuvenation, you won't feel you'll need to keep your hands out of sight when out to dinner or other events any longer.
What are the risks of hand rejuvenation?
There are few risks with any of these procedures. Dermal fillers are injected thousands of times every day everywhere and are FDA approved and safe. Chemical peels are simply forced exfoliation and non-invasive methods for shedding old skin.
Fat transfers are a little more involved, as fat has to be harvested first and then injected. But these are low amounts of fat and are low risk, as well.
---
schedule a Consultation
If you're interested in learning more about hand rejuvenation please contact us for a consultation at (760) 610-8990 or fill out our contact us form today. We will discuss your needs and concerns, and determine your best course of action.