Liposuction in Rancho Mirage & Palm Springs, CA
What is Liposuction?
Liposuction, often referred to as liposculpture, is a procedure that slims and reshapes the body's contours by removing excess fat. The procedure works best on areas that have not responded to diet and exercise, helping to sculpt the body from within by removing stubborn fat deposits.
Contact Lombardo Cosmetic Surgery today to schedule your liposuction consultation at our Rancho Mirage location.
---
What Areas of the Body Can Be Treated with Liposuction?
A better question would be — where can't I have liposuction? Techniques have become so refined, liposuction can be performed just about anywhere on the body. Dr. Lombardo performs liposuction for her patients on these areas: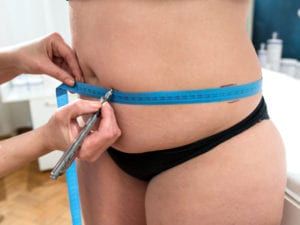 Abdomen
Hips
Flanks
Buttocks
Thighs
Inner knees
Bra strapline
Chest
Jowls/Submental (Chin)
Calves
Ankles
What Procedures Can Be Combined with Liposuction?
Liposuction is a long-lasting technique that can be used in conjunction with other cellulite treatments, like a tummy tuck, as well as facelifts or breast surgery.
---
The Liposuction Procedure
The liposuction procedure is done through small incisions that will heal with little scarring. The incision sites will be closed with sutures or surgical tape and you will be able to notice the results of either procedure as soon as the swelling subsides.
Traditional Liposuction
In traditional liposuction, a thin hollow tube called a cannula is inserted through these small incisions and is used to loosen excess fat. Once the fat has been loosened, it is removed by using a surgical vacuum or syringe.
Does Liposuction Require Anesthesia?
You will receive either local, general, or sedation anesthesia to enhance your comfort during your liposuction procedure.
---
See What Our Patients Are Saying
"Dr. Lombardo is the best. She has a unique combination of expert surgical skill and artistic ability — she actually studied art as well as medicine — which results in outstanding outcomes. I could not have been more pleased. Her staff are amazing. Together they make the entire surgical process stress-free and actually pleasant. You feel like you are surrounded by good friends. It has now been a year since my procedure and I remain extremely satisified. I would not hesitate to use Dr. Lombardo again." -David M. (Google Review)
To read more patient testimonials, click here.
---
Ideal Candidates for Liposuction
Liposuction is an ideal way to sculpt the body and remove cellulite for adults who are within 30% of their ideal weight. The best candidates have firm, elastic skin, and good muscle tone. All of this helps the skin and body to recover from the procedure and conform to your new shape.
---
Liposuction Before & After Photos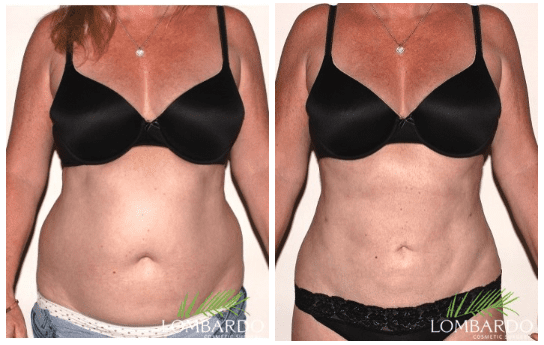 View Our Before & After Gallery
---
Liposuction Recovery
Recovery times for liposuction will vary depending on the part of the body that was worked on and how well you follow your recovery instructions. Recovery ranges from a couple of weeks to several months.
After your surgery, you will need to wear a compression garment or bandage. This helps minimize swelling and aids in compressing the skin to your new contours. There may be small incisions in the skin to help drain excess fluids from the procedure site. You'll be sent home with instructions on how to care for the site and medications to aid in healing and prevent infection.
Cost of Liposuction
The cost of liposuction varies depending on the amount of liposuction needed and the target areas. Dr. Lombardo offers a free in-office consultation and customized price quote after assessing your individual needs and goals. To schedule your free consultation, call: (760) 610-8990.
Contact Lombardo Cosmetic Surgery in Rancho Mirage today to learn more about liposuction where we serve greater Palm Springs & Palm Desert areas.
Liposuction FAQs
Is liposuction safe?
Overall, liposuction with Dr. Lombardo has proven to be a safe and very satisfying procedure for her patients, helping them slim their contours in areas that have been difficult to adequately target with dietary changes and exercise.
What are the Side Effects of Liposuction?
Liposuction is a surgical procedure, and it involves the typical risks involved with surgery, such as bleeding, infection, and reaction to the anesthetic, but these are rare with modern liposuction. Complications specific to liposuction are:
Contour irregularities — The treated area can appear bumpy or wavy. If the patient has inelastic skin, this is more prevalent.
Numbness — Any numbness in the area is usually temporary, but it can endure.
Fluid accumulation — Temporary pockets of fluid (called seromas) can form. These are rare and may need to be drained.
What do I need to do to prepare for liposuction?
Your preparation is minimal. Dr. Lombardo will advise you of any medications or supplements you'll need to stop taking. These will include aspirin and anti-inflammatory medications because these increase bleeding, and with liposuction, subsequent bruising. Liposuction has really evolved since it was first introduced in the U.S. in the 80s. Today it is much less traumatic to the tissues, thanks to smaller cannulas, tumescent solution that constricts blood vessels and makes the fat cells easier to remove, and new techniques. So, your recovery won't be overly difficult with liposuction today. Still, prior to your procedure you want to take care of any prescriptions you want to fill and get things in order so you can take it easy for a couple of days.
Is liposuction overly painful during recovery?
Again, modern liposuction is so much less traumatic on the areas treated than it was just 10 or 15 years ago. Your compression garments help keep the swelling down and reduce pain. Most patients can return to work in just two or three days, so that's a sign your recovery won't be too painful, or difficult.
When will I see my results after liposuction?
You will have some immediate swelling and bruising, plus the area or areas treated will either be wrapped in compression bandages or covered with compression garments. Still, you'll be able to see some immediate results. Swelling can last for about three weeks, depending on the areas you had treated. At that point, you'll be able to fully see your slimmer contours. And your results will continue to improve as your skin tightens down to its new contour. This process will take up to three months.
How long do I have to wear compression garments?
Wearing compression garments after liposuction is important for a few reasons. First, they really help reduce swelling and bruising. Second, by reducing swelling, they reduce pain. Third, they help your skin adapt to its new slimmer contours as quickly as possible. In most cases, Dr. Lombardo wants her liposuction patients to diligently wear their compression garments for three to six weeks.
What will my scars look like after liposuction?
Because the incisions Dr. Lombardo makes to insert today's smaller cannulas are so much smaller, your scarring will be that much smaller. Most people feel their scars are virtually invisible just a couple months after their liposuction procedure. To give you an idea, in most cases the incisions used to introduce the cannula can be closed with just simple bandages; they don't need stitches.