Buttocks Augmentation Procedure


Buttocks Augmentation, sometimes referred to as a Brazilian Butt Lift, uses fat transfers and grafting or injections to boost your backside. These techniques can reshape the backside, producing a more youthful, uplifted appearance.
A Brazilian Butt Lift is a butt augmentation procedure that reshapes the buttocks through the use of fat injections. Fat is taken from other parts of your body using liposuction and is then processed for buttocks injections, which are made all over your backside. You will be able to see results immediately and will have a natural look and feel to your buttocks since you are using your own fat deposits. Results may fade over time as the fat is absorbed by your body or as you gain or lose weight. Call (760) 610-8990 today to schedule your butt augmentation consultation with Dr. Lombardo.
Ideal Candidates for Butt Augmentation
Candidates for Brazilian butt lifts are generally dissatisfied with the appearance of their buttocks. Typically they:
Want fuller, more youthful buttocks
Feel that their backside is "too small"
Dislike the shape of their buttocks
Have an asymmetrical shape
Are in good health
Have realistic expectations.
Butt Augmentation Before And After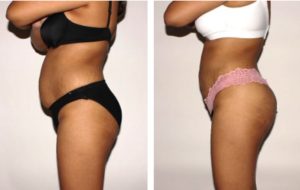 Where on the body is fat typically harvested for transfer?
For Dr. Lombardo to be able to use the fat to augment your backside, we need to first harvest it from an area you'd like to see it depart. Where you choose to have this removed is, of course, up to you. The most popular areas for harvesting the fat needed for re-injection are the lower back, waist, flanks (love handles), thighs, and lower abdomen. During your consultation, Dr. Maria Lombardo can help you choose the area or areas you'd like to target. With fat removal from some areas, such as the flanks, the results of your buttock augmentation can be accentuated.
How much fat Dr. Lombardo can remove with a Brazilian Butt Lift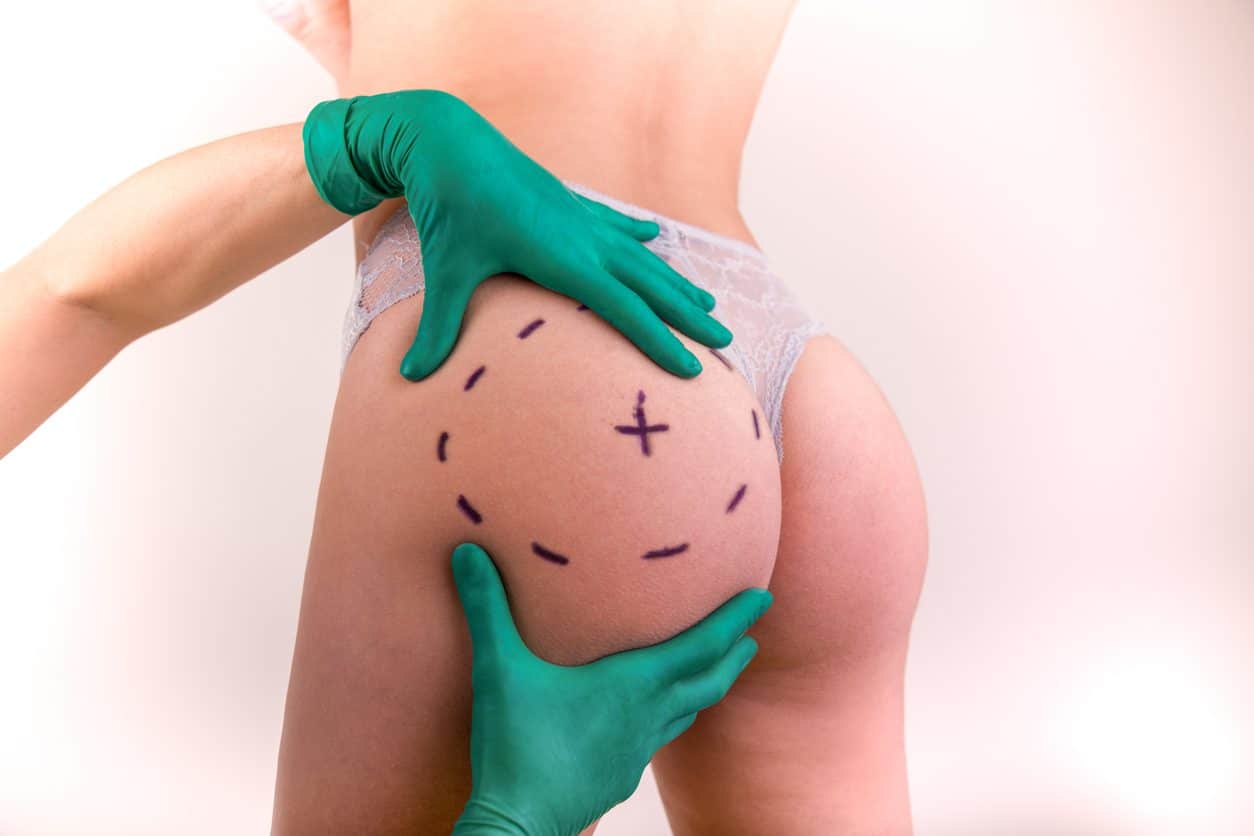 During your consultation with Dr. Lombardo, you'll decide where you want the fat harvested for your transfer. There isn't a "set" amount of fat to be removed. During your consultation, the two of you will discuss your goals. How much larger do you want your buttocks to be? Is the goal to simply add shape or to increase overall size? Your goals will dictate how much fat is needed. Dr. Lombardo typically will harvest about three times the amount that will be re-injected. That ensures the highest quality fat cells with the best chances of permanently "taking." For a rough estimate, 1000 ccs of fat is usually the minimum amount that needs to be harvested.
What kind of preparation will I need to make for the Buttocks Augmentation procedure?
These are not overly painful recoveries, so you don't need to plan for lengthy time in a recovery nest. But you do have to plan for the fact that you will not be able to sit directly on your buttocks or lie on your back for two to three weeks after your procedure. That will take some logistical planning on your part. In bed, you'll want to place pillows strategically, so you stay on your side rather than shifting to your back.
How long a Brazilian Butt Lift can take
These are two-step procedures with Dr. Lombardo. The liposuction portion is followed by fat purification, and then re-injection into the buttocks. There is some variability depending upon how much volume the patient seeks to add. You can plan on between 3 and 4 hours for your procedure.
Buttocks Augmentation Recovery
After the procedure, you will have some swelling and tenderness, but results will be noticeable immediately. You may experience some numbness as the area heals, but once swelling subsides, it will feel completely natural.
You'll be given instructions on how to care for the incision sites and/or liposuction sites and may receive a prescription for pain relief or topical ointment to aid in healing. You will need to wear a support garment for 2-3 weeks after receiving buttocks implants to help the area conform to your new shape.
At first, you'll need to refrain from sitting for prolonged periods of times. Sitting too much can damage the injected fat and prevent it from taking hold.
Butt Augmentation Before And After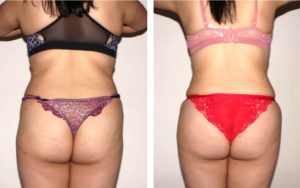 will there be scarring?
There will only be scars from the liposuction to harvest the fat needed for transfer to the buttocks. There are usually just three small incisions, each around 8mm long. If you opt to take fat from your lower abdomen, for instance, Dr. Lombardo will make one incision close to each hip bone, and one hidden by the belly button. Or you can opt to have fat removed from another specific location. These incisions are very small and become virtually unnoticeable after a few months.
As for the injections of the fat into your buttocks, these will not leave any scars.
When you will see your results of a Brazilian Butt Lift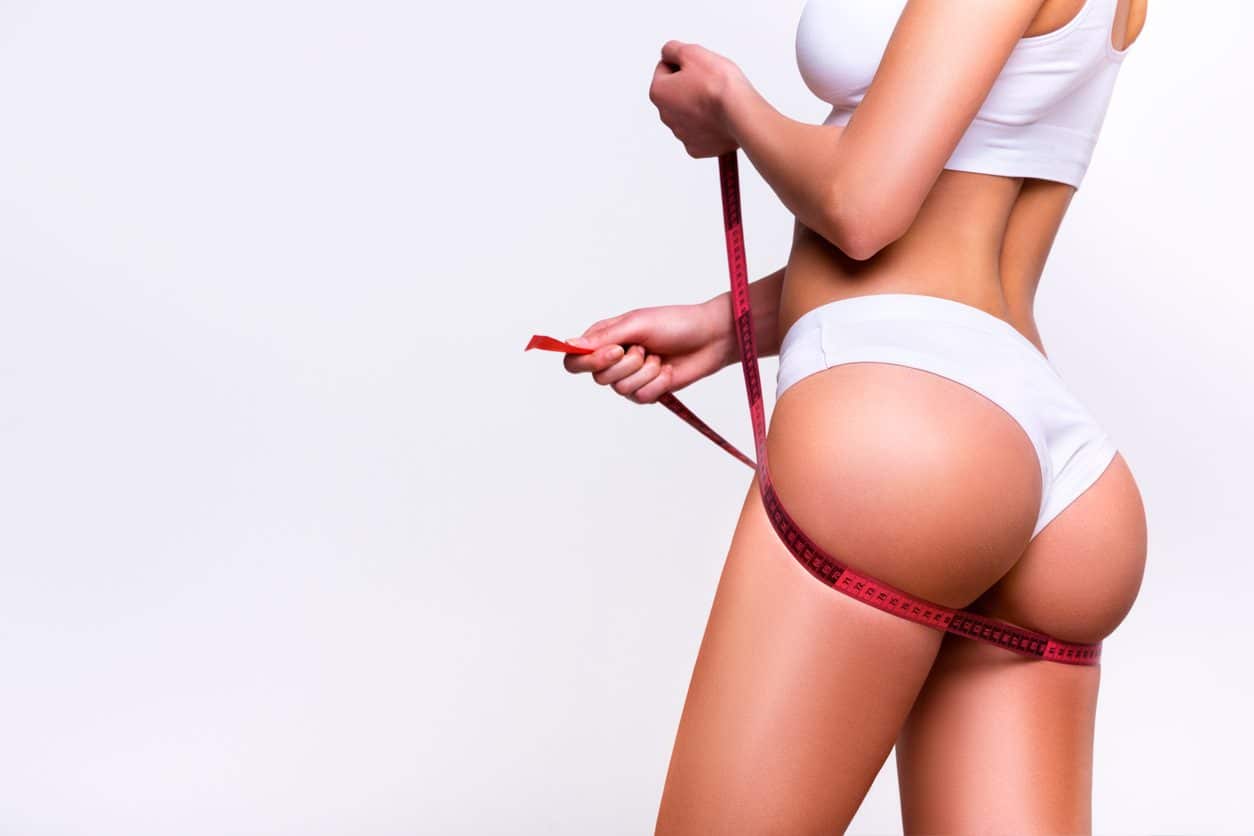 Your results are immediate, but they keep improving with time because it takes a little while for the fat "to take." In fact, your final results may take a full year to fully show themselves. There is some variability in results due to your body's absorption of some of the injected fat. Over time, some of the initial volume will diminish — patients retain 60 to 80% of the transferred fat, as the body absorbs the rest.
The same is true of long-term results after a Brazilian Butt Lift. If you are very diligent about not putting any pressure on your buttocks in the first few weeks after your surgery, that will increase your odds of getting more of the fat to take permanently. The fat that takes will have re-established a blood supply and should last.
What happens if I start gaining weight, will my butt get bigger?
Fat cells become larger with weight gain and smaller with weight loss. That's why you can become heavier without adding fat cells. The same will be true after a Brazilian Butt Lift. The fat cells that have become vascularized are there to stay, and they behave like it. They will grow if you gain weight, so your butt will get bigger. However, the proportionality of your shape shouldn't really fluctuate.
What happens if I lose weight, will my butt get smaller?
As mentioned above, when you lose weight your fat cells decrease in size. This will happen across your body, including your enlarged bottom. However, your proportions should remain the same, as the changes in the fat will be widespread, not localized.
Cost of Butt Augmentation
The cost of butt augmentation varies from person to person and depends on the specific procedures required to achieve your desired look. These are elective procedures, so insurance does not cover them. Dr. Lombardo offers a free in-office consultation and price quote after assessing your individual needs and goals. To schedule your free consultation, call: (760) 610-8990.
Schedule Your Butt Augmentation Consultation In Rancho Mirage, CA!
Contact Lombardo Cosmetic Surgery in Rancho Mirage today to learn more about buttocks augmentation where we serve greater Palm Springs & Palm Desert areas. Dial (760) 610-8990 to reach our staff, or fill out the form in our contact page. Our practice looks forward to serving you!