Mommy Makeover
What is a "Mommy Makeover"?
Women often complain that their bodies change after having children.  After pregnancy and breast feeding, the breast and belly often have lingering or permanent effects.  The skin can be stretched and lose its elasticity after the pregnancy is over and even after additional weight loss is accomplished.  The breasts can lose volume/fullness and change position after pregnancy too. The "Mommy Makeover" is a phrase that is used to describe the combination of breast and abdominal (belly) procedures to improve or restore the body to its pre-pregnancy condition.
Many people assume that the "mommy makeover" means having a breast implant.  But for those patients who don't want to increase the size of their breasts, a mastopexy or breast lift can be done. The amount of ptosis, or "hanging", of the breast is how the decision is made as to which lift is needed.  A lift and an augmentation with an implant can also be done together if the patient is looking to increase the size of the breast while lifting to a more youthful position.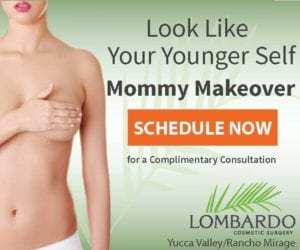 The second part of the "Mommy Makeover" is the Tummy.  Abdominal procedures range from liposuction by itself to "tummy-tucks" or a combination of both.  Again, the degree of skin looseness and the amount of fat under the skin determines which of the procedures is appropriate for each patient.
Combining the two procedures, breast and body, can result in a cost savings but one of the nicest reasons to do two procedures together is that you also combine the healing phase:  Two procedures with only one recovery period.  Because every patient is different and is trying to reach different goals, the best way to determine if a "mommy makeover" is for you is to schedule an appointment for a complimentary consultation.  Dr. Maria Lombardo will discuss what bothers you and to go over expectations for surgery.  In Rancho Mirage and by appointment only in Yucca Valley. Call to schedule today!  760-610-8990
View our MOMMY MAKEOVER Before & After Gallery
Contact Lombardo Cosmetic Surgery at our  Rancho Mirage or Yucca Valley office today to learn more about Mommy Makeovers!