A Friendly Reminder: The Sun is Not Your Skin's Friend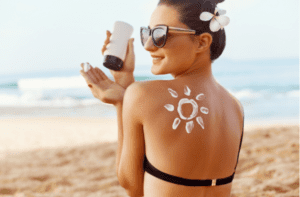 There is no shortage of sunny days around here in Southern California. While we're not on the coast, almost any day could be a pool day. That's part of what makes the Palm Desert area so popular among Snowbirds who love getting away from the cloudy, rainy, or snowy weather elsewhere! Still, even if you're in the area to get away from unpleasant weather, it is important to balance the freedom you've gained with some sun-savvy ways.
Remember the Marlboro Man? He's Run Away with the Coppertone Girl!
Chances are if you escape to the Palm Desert area for some R&R that you're over the age of 40. Maybe a decade or two older. Those who are in the middle of life tend to remember ads that featured the Coppertone Girl, a bronze-skinned young girl with quite the tan line. She was the perfect representation of a culture and era in which SPF was not a thing. The horrendous effects of sun exposure were somehow not even known. At the height of the Coppertone Girl days, the highest SPF that existed was 2. Now, like the Marlboro Man who touted the benefits of smoking, the Coppertone Girl's fifteen minutes of fame are up. We know too well that a suntan is an indication of damage to the skin. We know that too much sun exposure for too long doesn't just lead to a painful sunburn but also to premature aging and skin cancer. But do we need to know more? Probably.
What is SPF and How Does it Work?
The SPF number indicates how long it would take the sun's UV radiation to redden the skin when using the product exactly as directed. If, without sunscreen, you would get red after 10 minutes, it would take 30 times longer for this to happen if you wear SPF 30. If you wear SPF 50, it would take 50 times longer. This works pretty well in theory but rarely translates into healthy skin, to be honest.
There are a few mistakes that people make when using sunscreen. The first is that they do not use a broad-spectrum sunscreen product. This is easy to overlook when so much focus is placed on SPF. Without the term "broad-spectrum" on the label, a sunscreen only protects from one type of UV light. The fact is, though, that sunlight carries both UVA and UVB light. Without protection against both, there is a high risk of damage to the skin. Another mistake that people make is that they take that time frame of protection too seriously. If you go to the pool for the day and you apply your SPF sunscreen before you arrive or as soon as you arrive, you lay in the sun for some time (sweating), then get into the pool to cool off, and you do not reapply sunscreen, you've set yourself up for a tan and the premature aging and cancer risk it brings with it.
Summer is just around the corner and we're looking forward to the warmth it brings. At the same time, we've got to discuss how we can protect our skin. If you are interested in learning more about the medical grade skincare products available at our Rancho Mirage office and how they can help you mitigate sun damage, contact us today at (760) 610-8990.
Posted in: Skin Care