Paleo Sandwich Bread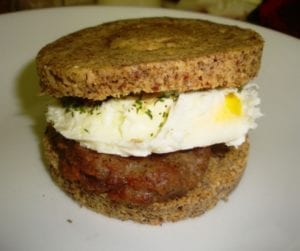 Paleo Sandwich Bread
(makes one individual bread):
¼ cup almond flour
2 tablespoons flaxseed meal
½ teaspoon Baking Powder
pinch of sea salt
1 egg
1 teaspoon olive oil
Preparation
In a small bowl, mix dry ingredients and set aside. In another small bowl whisk together the egg and oil. Add the wet ingredients to the dry and mix well. Spoon mixture into 6 oz. greased ramekin or small pyrex dish and microwave for 50 seconds to 1 minute. (If you don't have the "right" ramekin, you could also cook this in a wide mug.) Slice horizontally to make into two slices of bread!
Posted in: Paleo Cooking
Leave a response