Awesome Paleo Lasagna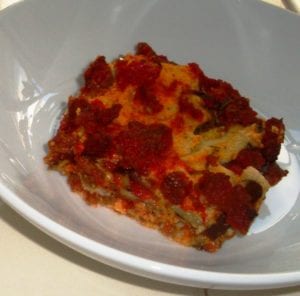 Awesome Paleo Lasagna – Maria's Original High Priestess of Paleo version!
Yes, it's a lot of work… but totally worth it!
Cashew Cheese
2 ½ cups raw cashews
Juice of 1 lemon
3-6 cloves of garlic, chopped
Salt & Pepper, to taste
Up to 1 cup of water
Soak the cashews in water for at least 2 hours (overnight is better). Drain off soaking water, rinse and transfer cashews to a food processor or blender. Add the lemon juice, garlic and Salt & pepper. Process until smooth and creamy. You may need to scrape down the sides of the food processor bowl. Add water a bit at a time to get the "ricotta-like" consistency you want. Put aside until ready to assemble lasagna.
Noodles
2 medium eggplants, peeled or not
Salt (light sprinkling)
Thinly slice eggplants the long way to make long, flat "noodles". A Mandoline or V-slicer is great for this but it can be done with a sharp knife & a careful hand. Lightly salt the eggplant and allow to sit for at least an hour. The water will seep out of the eggplant – pat dry with paper towels before using in the lasagna. Get to work on the Tomato Sauce…
Tomato Sauce
Olive oil
1 medium onion, chopped
1 pound hot Italian sausage (or ground beef or ground turkey ), remove any casing
3- 15 oz cans diced tomatoes (plain or Italian seasoned)
Crushed red pepper flakes
Powdered garlic, onions, Italian seasoning, oregano, whatever….
In a deep pan, heat olive oil. Add onions and sauté until soft. Add sausage and break up in the pan to have small crumbles. When browned, add seasonings to taste (don't forget the hot pepper flakes) and pour in the diced tomatoes. Simmer until ready to use – but for at least 30 mins. While it's simmering make the spinach & mushroom fillings…
Spinach Layer
16 oz bag of spinach (or more) – can use frozen if you squeeze very dry
Olive oil
1 onion, diced
1 tsp nutmeg
Salt and pepper
Heat olive oil in pan. Saute onion until soft. Add spinach and seasoning. Cook on medium heat until spinach is wilted and any water is evaporated. Use the way it is or chop in a food processor for a "creamed spinach layer". Hold in pan until ready to add to lasagna.
Mushroom Layer
16 oz mushrooms, sliced
Olive oil
Salt & Pepper
Heat oil in large pan. When hot, add mushrooms and cook on medium heat until browned. Don't move them around too much – or they will not brown. Season with salt & pepper. Hold in pan until ready to assemble lasagna.
Putting it all together:
Preheat oven to 350 degrees.
Start with a layer of sauce on the bottom of a roasting pan (9 x 13 is the usual size).
Place 1/3 of the eggplant in one layer over the sauce.
Carefully spread 1/3 of the cashew cheese with a spatula over the eggplant.
Add all the sautéed mushrooms over the cheese.
Cover with more sauce…. Then eggplant… cheese… spinach layer… more sauce… the last layer of eggplant… any remaining cheese & finally sauce! Let the sauce run over and down the sides. Cover with foil and bake for about an hour – check… when the sauce on the sides is bubbly – it's done! Let sit uncovered for 5 – 10 minutes so it is easier to slice and won't slide into a pile of mush when you serve it… Enjoy!
Invite lots of friends over so they can help you clean up!
Posted in: Paleo Cooking
Leave a response