Paleo Pizza! (makes 2 crusts)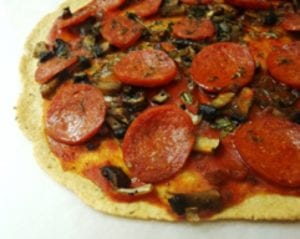 2 cups Almond Meal
2 eggs (whisked)
2-3 tsp EVOO
1 tsp salt
¼ tsp baking soda
½ tsp rosemary
1 tsp garlic powder
Combine all ingredients. Divide dough into 2 pieces. Roll out dough thinly on to a non-stick pizza pan (or parchment paper) Bake at 350-degrees for 15 minutes, or until lightly browned.
While dough is baking, mix and simmer the following on the stovetop:
1-2 cans of organic tomato paste (the small cans)
1 ½ cups of water
1 tsp dried oregano
1 tsp dried basil
1 tsp garlic
When dough is finished, let cool for 10 minutes. Drizzle a little bit more EVOO over the top. Spread the sauce over (leaving 1/4″ around edge) and add your favorite toppings: sausage, onions, peppers, olives, basil leaves, spinach, pineapple, jalapeños, tomatoes, fennel seeds… Put pizza back in the 350-degree oven for another 15 minutes. ENJOY!!!
Posted in: Paleo Cooking
Leave a response