Paleo Biscuits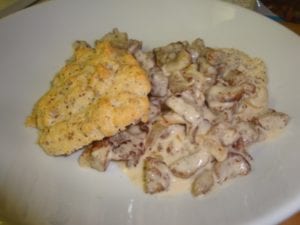 Paleo Biscuits
¼ cup coconut flour
¾ cup blanched almond flour
1 teaspoon baking powder
1 ½ tablespoons coconut oil
¼ teaspoon salt
Zest of one Orange
6 large egg whites
Instructions:
In a bowl, mix two flours, baking powder, salt and orange zest. With a pastry blender or fork, cut in coconut oil. You want to make a crumbly mixture. Let sit in the refrigerator for 15-20 minutes.
Preheat oven to 400 degrees and line baking sheet with parchment paper.
In a small bowl, whisk the egg whites until they are very frothy.
Remove flour mixture from refrigerator, and gently fold in the egg whites, stirring to combine. The dough should be wet. If too dry, the biscuits will turn out dry after baking.
Spoon the biscuit batter onto a greased sheet pan or into muffin tins. I actually shaped them into biscuit shapes with my hands.
Bake for 12 – 15 minutes or until golden brown.
Paleo Sausage Gravy
2 T Olive oil
One small onion, diced
One 12-ounce tube bulk pork sausage
One cup almond milk
Salt & black pepper, to taste
Arrowroot powder – if needed to thicken
Chopped parsley as a garnish
Instructions:
Heat a skillet over medium-high heat. Add olive oil and onion: sauté to soften. Add the sausage; break it up with a wooden spoon, and cook, stirring occasionally, until well browned and cooked through, about 7 minutes.
Pour the almond milk into the skillet and bring the gravy to a simmer. Lower the heat and simmer gently for 2 minutes. To thicken gravy: lightly sprinkle (about 1/8 tsp) with arrowroot powder and quickly stir into the liquid. Season with salt & pepper if needed. Split the biscuits in half and divide them among plates. Top each biscuit with some of the gravy, garnish with chopped parsley and serve immediately.
Posted in: Paleo Cooking
Leave a response