Renuvion: Skin Tightening at It's Best
Posted on: Aug 30 2021
By: editor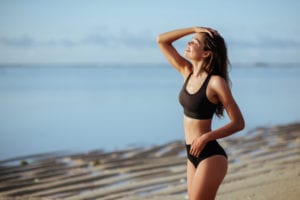 As research discovered more about what causes the signs of aging we all wish we could avoid, technology has caught on to the need for innovative nonsurgical treatments. If you're starting to consider how you can firm up loose, sagging skin, you're in luck. There is no shortage of potential treatments. While there are benefits to having numerous treatments to explore, the broad scope of care can be so daunting that it takes months to decide. We try to take the guesswork out of treatment planning. In our Rancho Mirage cosmetic surgery practice, Dr. Lombardo has added a single nonsurgical skin-tightening device, Renuvion. Here, we discuss why.
Renuvion at a Glance
Aging skin is tissue that no longer has large supplies of collagen and elastin. The supportive matrix of connective tissue beneath the skin loses resiliency as collagen strands start to weaken and fray. As a result of these invisible changes, the skin begins to look thin, crepe-like, deflated, and saggy. This can happen anywhere on the body, from the eyelids to the cheeks to the arms to the tummy to the buttocks. You get the picture.
Renuvion is a nonsurgical treatment that enables us to quickly tighten skin with mild to moderate laxity. The procedure is performed in the office using local anesthesia. Dr. Lombardo does make a tiny entry point in the skin. This is needed because the Renuvion handpiece is inserted beneath the epidermis to maximize energy delivery to the dermis, where collagen and elastin are produced. Renuvion's energy is a combination of helium gas and radiofrequency. This is an ideal combination for controlled energy that is cooler but also more powerful.
What makes Renuvion Special?
There are several aspects to Renuvion that make it special. These include:
The device remodels the top layer of the skin as well as deeper layers for fundamentally smoother contours.
The delivery of energy produces immediate effects seen by the provider. This allows for a greater degree of precision in contouring.
Renuvion is the only platform that combines helium with radiofrequency, resulting in plasma energy that is unmatched by other nonsurgical modalities.
Helium increases efficacy while also producing a cooling effect for a more comfortable treatment.
Renuvion is designed to achieve dramatic results with just one treatment session.
Treatment can be performed virtually anywhere on the body where skin has become saggy.
Something to Know
While we are continually impressed with the results that Renuvion achieves, we must note that nonsurgical skin tightening does have limitations. Patients with more severe tissue laxity may not achieve the full extent of tightening they desire with this approach. In some cases, surgery remains the best option for beautiful, natural-looking improvements.
Technology is changing right along with aging skin. We can help you address the common signs of aging. Contact us at (760) 610-8990 to schedule an appointment with Dr. Lombardo in our Rancho Mirage office.
Posted in: Practice News, Renuvion (J Plasma)