Your Mommy Makeover: We've Got Answers to Your Questions!
Posted on: Aug 15 2021
By: editor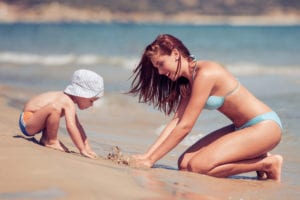 Parents know that their lives will change forever when they decide to have a child. Even one pregnancy, delivery, and round of breastfeeding can have lasting effects on a woman's body. These changes, though somewhat expected, may result in extended efforts to lose weight and find clothing that fits her new breast shape. Ultimately, the changes that a woman experiences may be unacceptably misaligned with her vision of herself. In such a case, she may consider a Mommy Makeover. If you're in this boat at the moment, you may have some of these common questions.
What is Involved in a Mommy Makeover?
There is a common perception that a Mommy Makeover is a combination of breast augmentation and abdominoplasty. That may be it for some, but we don't limit Mommy Makeovers. Our parameters for treatment planning are the patient's concerns and desired outcome. Some of the treatments that can be involved in a Mommy Makeover are surgical, some are not. It's all up to us to decide after we discuss what you would like to achieve. Your makeover may include any combination of the following:
Liposuction
Breast implant surgery
Breast lift surgery
Abdominoplasty
Brazilian Butt Lift
Thigh lift
Renuvion nonsurgical skin tightening
Lip augmentation with dermal fillers
What is the Cost of a Mommy Makeover?
There is one way to know how much your Mommy Makeover would cost, come see us. Dr. Lombardo is a renowned surgeon who receives patients from all over the country. During your consultation for treatment, she will listen thoughtfully to your concerns and consider how they may best be addressed. A brief examination of your skin and areas of concern help guide the treatment planning process that revolves around you. After this visit, we have a clear understanding of procedures and costs.
How Painful is a Mommy Makeover?
Because a Mommy Makeover involves multiple procedures, patients usually expect it to be painful. It's far easier than most think. Surgery performed using general anesthesia is painless due to the controlled interruption of pain receptors during the procedure. By the time patients might start to notice their soreness or tenderness, it is usually time to begin taking their prescription painkillers. When this medication is taken as directed, pain is well-managed and, within a week, much of the discomfort has subsided.
We would love to hear from you. Contact our Rancho Mirage office at (760) 610-8990 to schedule your Mommy Makeover consultation.
Posted in: Mommy Makeover