ColoreScience® Sunforgettable
Posted on: Sep 11 2017
By: editor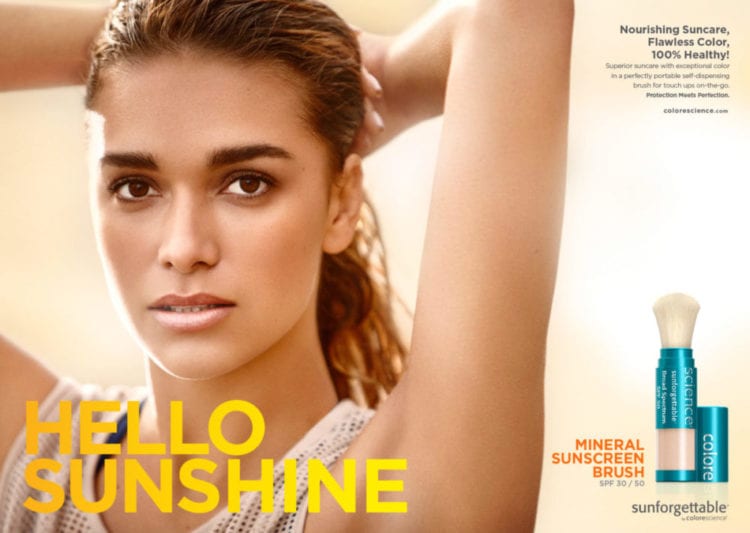 Sunscreen: We all know it's important. We should all be wearing it every day and NOT JUST when we are out playing in the pool or on the golf course. What is the best kind to use? It's confusing when there are approximately 1,000,000 product choices out there: What brand should I buy? Chemical vs. Barrier protection? How high of an SPF do I need? Do I want a stand-alone product or something mixed into my makeup or moisturizer? No matter which one you choose, most people don't realize that almost all sunscreens only last for a couple of hours! Yep! You read that right!
If you apply an SPF as part of your morning routine, by the time you take a lunch break you are no longer protected. Even if you think you are doing your best to take care or your skin… the protection is gone! Most people who know they are going to be out in the sun for a long period of time, doing some activity or getting in the water, also know they need to frequently re-apply their sunscreen to not get burned. Here in Southern California you are in the sun, and need sun protection, every time you step outside. And that includes driving – UV radiation can penetrate the windows!
At Lombardo Cosmetic Surgery we have just introduced a fantastic and convenient product called ColoreScience® Sunforgettable brush-on SPF 50 that offers mineral-based powerful UVA/UVB protection in powder form with a special brush applicator. You simply open the tube and brush on the sun coverage! It's super light. It can go on over makeup without looking like it's there. It's non-irritating and can be used on face, body and hands. A 6 gram tube lasts over 3 months. You can keep one in your purse or your car (it's a powder so it won't melt in the heat!) and you will never be without a quick and easy re-application!
We are very excited about how much our patients are loving the new ColoreScience® sunscreen. It's also great for protecting during and after a chemical peel! Call us at 760-610-8990 to get more information and to check out this great new product. Use sunscreen: Protect the only skin you'll ever have!
Tagged with: ColoreScience, palm desert, palm springs, rancho mirage, Skin, skin protectors, SPF, Sunforgettable, Sunscreen
Posted in: Non-Surgical Procedures, Practice News
Leave a response