Jawline Contouring Made Easy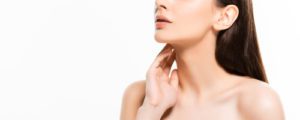 The contours of the jawline are integral to our appearance. The angles of the lower face dictate to some degree how masculine or feminine the face looks. A slack, soft jawline may make the face appear older. In recent years, we've gained a slew of non-surgical options for redefining the jawline and chin areas. These have allowed us to shift away from invasive jaw and chin implant surgeries into much gentler approaches. While nonsurgical jawline contouring does not provide permanent results, it works quickly and virtually without side effects.
Jawline Contouring Treatment Options
It is easy to assume that there is one specific way to contour the jawline. The thing is, contours may be affected by different factors so, to improve them, we have to know the problem that needs correcting.
Patients interested in refining their jawline contours to look more chiseled and prominent may be good candidates for a dermal filler like Restylane. This denser filler can be deposited along the jawline to build upon natural bone structure. It may take two appointments to achieve the desired extent of contouring. Dermal fillers like Restylane or Juvederm may also be ideal for correcting the signs of aging along the jawline. In this case, the filler may be injected into the pre-jowl area to disguise mild to moderate laxity from the sides of the face.
Not everyone wants to enhance the angular nature of the jawline. Some people want to make a broad jaw look less prominent. This can be achieved by injecting BOTOX or Dysport into the masseter muscle on each side of the face. The bilateral masseter muscles are larger than other muscles on the face and they work in unison when we chew. People who clench the jaw or grind their teeth often have strong, prominent masseter muscles and the appearance of a wide jaw.
A nonexistent jawline may not be a bony structure issue or muscular issue, but one that is related to fatty deposits. Many people struggle with excess fat beneath the chin. What we call a double chin can make the face appear wider, older, and generally heavier. This can affect a person regardless of being at a healthy weight. A skilled team can reduce the double chin with injections of Kybella, the first and only injectable of its kind. Kybella does take some time to work and multiple visits may be necessary (usually no more than three or four). However, once fat cells are destroyed by the product, the body eliminates them and they are gone for good. With a reduction of submental fullness, the jawline is revealed in all of its natural beauty.
We are proud to serve patients from Rancho Mirage, the Palm Springs area, and we also regularly welcome fly-in guests and snowbirds. Contact us today at (760) 610-8990 to schedule your jaw-defining treatment.
Posted in: Facial Fillers