Address Two Specific Concerns with a Breast Augmentation and Lift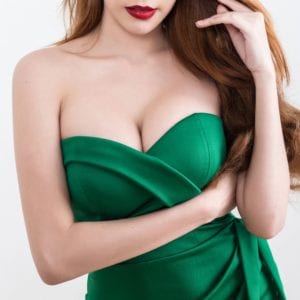 Breast augmentation has been one of the top cosmetic surgeries for years. Breast lift procedures follow closely in annual statistics. It's easy to understand why. A woman's breasts are susceptible to the many biological changes that occur with age. When hormones or weight fluctuate, the breasts can change shape. While this may not be cause for health concerns, a downgrade in the appearance of the breasts can have a negative effect on a woman's life.
The breasts fill a crucial role in body image, sexual identity, and self-esteem. They do so without us thinking much of it. That is until the breasts have changed significantly and we no longer feel "like ourselves." When changes cause a general sense of dissatisfaction, one may consider breast augmentation. However, combining that procedure with a lift may be ideal. Together, these procedures can correct common concerns like sagging and deflation.
Breast Sagging
Many women notice at some point that their breasts splay out to the sides or hang lower than they used to. This is demonstrated by the position of the nipple in relation to the breast crease. Drooping occurs because, as we age, the skin loses the structure and firmness it once had. This happens because the body does not make as many of the skin-supporting proteins it once did. This process can be accelerated by sun exposure. As the skin loosens and weakens, the size and shape of the breasts are bound to change. Gravity has more of an effect on weighty breast tissue, pulling the breast mound downward. This is not only frustrating but can also be physically uncomfortable.
What Is A Breast Lift?
A breast lift is a procedure in which the surgeon repositions the breasts to a perkier position. This is achieved by tightening the envelope of skin around breast tissue and, as needed, redistributing the natural fatty tissue on the breasts to create a fuller, higher appearance.
Deflation
Breasts get their fullness from fatty tissue. This tissue is influenced by several factors, including weight loss and hormone changes. Many women notice that their breasts look deflated after they finish breastfeeding, which affects both weight and hormones. While a lift can reposition the breasts, it is breast augmentation that increases volume back to normal or even beyond that.
What Is Breast Augmentation?
Breast augmentation is the procedure in which the surgeon inserts selected breast implant devices to achieve the patient's desired outcome. Dr. Lombardo assists patients in choosing by providing detailed information regarding all options, including type, texture, profile, and more.
Why Combining Makes Sense
Often, women seeking breast augmentation or breast lift alone are so focused on one of these two concerns we've mentioned that they don't notice that they also have the other. To get the firm, shapely breasts they want with the shortest recovery time, their best choice may be to combine a lift with augmentation.
Learn more about the breast procedures performed by Dr. Maria Lombardo. Call our Rancho Mirage office at (760) 610-8990.
Posted in: Breast Augmentation
Leave a response