Tummy Tuck Surgery: Full or Mini?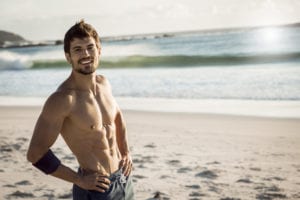 Tummy tuck surgery, or abdominoplasty, is a plastic surgery procedure known for the way it sculpts the midsection. When someone uses the term tummy tuck, they may envision a particular procedure. In reality, tummy tucks are customized procedures. In addition to the traditional, full tummy tuck, Dr. Lombardo performs mini tummy tuck surgery in applicable cases. Knowing that there is more than one option, you might wonder which tummy tuck is right for you. Here, we discuss the differences between the full tummy tuck and mini tuck to help you start to explore what your journey may involve.
Full Tummy Tuck vs. Mini Tummy Tuck
The one thing that these two procedures share is the goal of smoothing and tightening the midsection. That's about where the similarities end, though.
The full tummy tuck procedure is more extensive, as it sounds. It occurs through a hip-to-hip incision that is hidden just beneath the bikini line. A second, discreet incision is made either inside the belly button or just around its edges. The lower incision provides access to tighten the abdominal muscles across the lower abdomen. The belly button incision allows access to tighten the upper abdominal area. This technique results in not only a flatter, tighter tummy but also a narrower waist.
The mini tummy tuck is a more focused procedure that tightens the abdominal muscle and skin from the bikini area to the belly button. This procedure may need a smaller incision that does not go all the way from hip to hip. Because it is focused on eliminating a lower abdominal "pooch," the mini tummy tuck is often suitable for patients with relatively good skin and muscle tone.
Choosing the Best Procedure for You
Ultimately, both tummy tuck techniques offer advantages. All patients are unique, which is why various protocols exist. In addition to the traditional and mini tummy tuck techniques that are common, Dr. Lombardo also performs extended and circumferential abdominoplasty, the Avelar tummy tuck known for sculpting the midsection, and the W-plasty tummy tuck that addresses the results of massive weight loss.
How do you know which tummy tuck is right for you? You consult with an experienced, board certified surgeon! To schedule a visit with Dr. Maria Lombardo in our Rancho Mirage office, call (760) 610-8990.
Posted in: Tummy Tuck