August Monthly Specials
Posted on: Aug 1 2018
By: editor
We're making a splash with our August summer specials on dermal fillers that will help rejuvenate your skin with beautiful, natural-looking results! Dermal fillers are a non-invasive treatment option that can plump thin lips, reduce the appearance of fine lines and wrinkles, soften creases in the face and even improve the appearance of deep scars. They can be performed on an outpatient basis and take as little as 15 minutes from start to finish.
You and Dr. Lombardo will discuss your desired results and select the right filler for the job. Choices include:
Once you've settled on a dermal filler, Dr. Lombardo will map out where the injections will go using a marking pen on your face. The area will be cleaned and a topical numbing cream will be used to numb the area. The injections take just seconds to perform and multiple sites can be injected at the same appointment. Contact us today to schedule your appointment!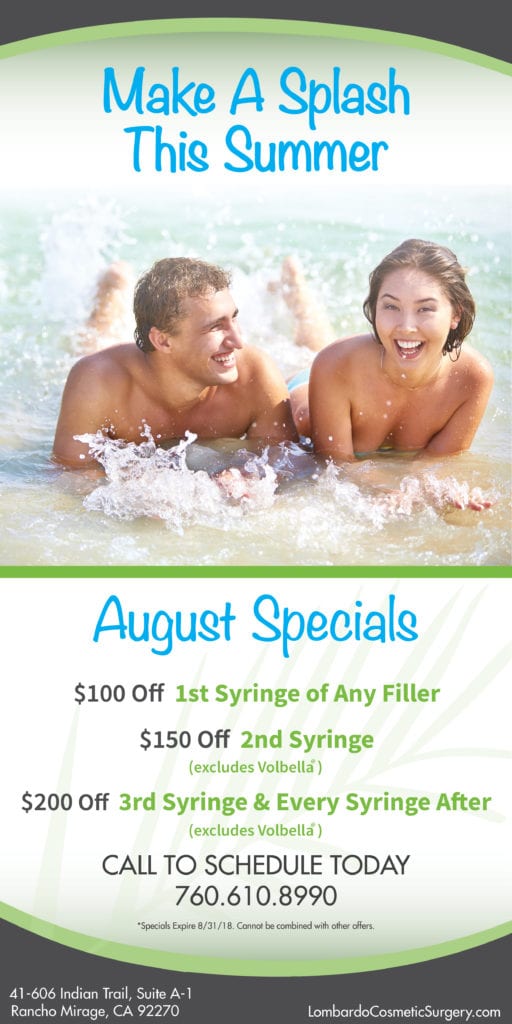 Tagged with: Beauty, Bellafill, facial fillers, fillers, injectables, juvaderm, juvederm volbella, juvederm voluma, Monthly Specials, palm desert, palm springs, rancho mirage, Restylane, Revanesse Versa, Scultura, Summer Glow, summer skin, wrinkles
Posted in: BOTOX® & Facial Fillers, Facial Fillers, Monthly Specials, Non-Surgical Procedures, Skin Care
Leave a response