White Wine & Thyme Cashew Grain Free Gravy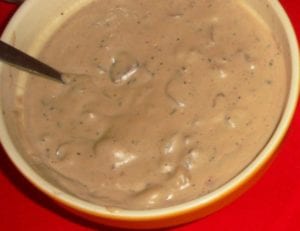 Ingredients:
2 cups soaked raw cashews (1 ½ cups un-soaked)
1 ½ to 3 cups chicken, turkey broth or vegetable broth
2 Tbsp olive Oil, ghee or other oil
1 medium sized onion (about 1 ½ cups chopped)
4-5 large garlic cloves
1/2 or more cup organic dry white wine (or ½ cup broth instead of wine)
1 Tbsp fresh squeezed lemon juice
2 tsps smashed thyme
1 tsp sea salt or to taste (less if using already salted broth).
Coarse Ground pepper to taste
Garlic powder if desired, to taste
Sauteed Mushrooms
Soak 1 ½ cups raw cashews for 6-12 hours. You can get away with 2-4 hours if you have a high powered blender.
Pull the thyme (or other herb) off of the stems then smash the leaves with a large knife. You want to release the oils of the herb. Set side.
Dice the onion & garlic then using a large frying pan, saute the onions and garlic in 2 Tbsp oil till translucent, cook until caramelized. This will help give your gravy a nice color and flavor.
Once done, set the pan aside but don't clean it. Place the onion/garlic mixture in the blender.
Drain the cashews and rinse. Place them in the blender. Add 2 cups of broth to the blender. Blend till smooth. As smooth as you can get it. This may take 3-5 min. in a regular blender, but will be much faster in a Vita mixer.
Pour the cashew mixture back into the pan that you cooked the onions and garlic in. Add the smashed thyme and cook the cashew mixture over a medium heat for a few minutes or until it thickens and darkens up a little bit. Stir/whisk constantly so that it doesn't burn.
When ready stir/whisk in the wine and lemon juice. Again keep stirring letting it thicken for a few minutes. This helps develop a richer flavor. Add some or all of the left-over chicken broth to reach desired thickness. Whisk in the salt, pepper and a little extra olive oil (optional and or wine if needed. Add sautéed mushrooms.
Makes three cups.
Posted in: Paleo Cooking
Leave a response