Boob-A-Palooza Raises Funds and Awareness about Breast Cancer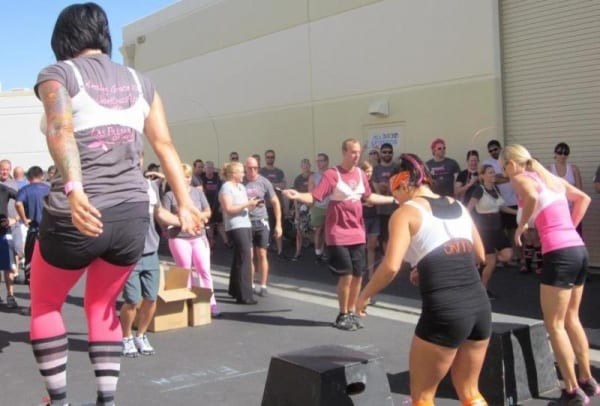 Lombardo Cosmetic Surgery, Desert Crossfit and Las Palmas OB-GYN join forces to support Charity Godmother
Three local businesses committed to wellness are coming together for Boob-A-Palooza, a fitness and fun event from 10 a.m. to 1 p.m. November 8, 2014, to raise awareness and funds for breast cancer. Desert CrossFit training facility, Lombardo Cosmetic Surgery and Las Palmas OB-GYN are presenters of the event to be held at Desert CrossFit at 73605 Dinah Shore Drive in Palm Desert.
"Breast Cancer Awareness should be all year round, not just in October! We are sponsoring this fundraiser as a fun way to address a serious issue." says cosmetic surgeon, Dr. Maria Lombardo. "Desert CrossFit offers a super environment combined with an exceptional staff who take an avid interest in helping their clients achieve their health and fitness goals. This event is a great way to get in an entertaining workout and raise funds for a great cause!"
Registration opens at 9:30 a.m. November 8, with the fun starting at 10 a.m. and continuing through 1 p.m. Activities include "The Boob Olympics" competition, raffle, DJ music, food and barbecue. Admission is $10 or pay $30 and receive a T-shirt.
Proceeds benefit Charity Godmother, one of the desert's newest non-profits dedicated to raising funds for not only breast cancer, but all cancers. The organization supports a variety of groups who need assistance including funding "bucket-list" wishes for individuals with cancer.
Dr. Lombardo is available for interviews for Boob-A-Palooza. To schedule an interview, call Michelle McLaughlin at FG Creative at (760) 773-1707 or email her at [email protected].
Photographs from last year's event are available upon request.
For more information about attending the event call (760) 779-8880.
One of the activities at the 2013 Boob-A-Palooza event held at Desert CrossFit in Palm Desert.
About Lombardo Cosmetic Surgery:
Dr. Maria Lombardo is a successful Board Certified General Surgeon and a Cosmetic Surgeon located in Rancho Mirage. She uniquely offers a woman's touch in her evaluation and recommendations to her patients. Lombardo Cosmetic Surgery offers a full range of cosmetic procedures and non-surgical treatment. Dr. Lombardo is dedicated to assisting men and women to develop stronger self-confidence, enhance their beauty, and make informed decisions about their health. She is a member of the American Academy of Cosmetic Surgery (AACS), the American College of Osteopathic Surgeons (ACOS) and the American Osteopathic Association (AOA) and holds certifications in both General Surgery and Cosmetic Surgery. For more information visit her on the web at www.lombardocosmeticsurgery.com or call (760) 610-8990.
Posted in: Practice News
Leave a response