Liposuction Limitations: Here's What They Are and Why They Exist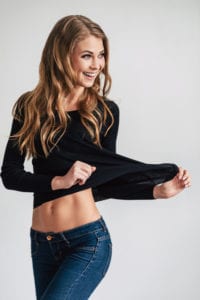 Liposuction has a longstanding history as one of the most efficient and successful fat-reducing techniques to be developed. The ways in which liposuction is performed have evolved over time to reduce tissue trauma and improve overall patient outcomes. Still, there are limitations that dictate how much fat a surgeon should remove during a single liposuction procedure. Here, we discuss that upper limit and why it is respected.
Every liposuction case is unique and approached as such. However, the basic upper limit for fat removal is approximately 6,000 ml of volume. This may equate to about 12 pounds of fat and fluid. It is important to note here that the measurement of 12 pounds is only used to assess how much fat is removed during a single procedure. Interestingly, it does not predict that a patient will be 12 pounds lighter after their surgery. We must remember that liposuction is a body-contouring procedure, not one intended for weight loss.
Why Losing More Fat Isn't Necessarily Ideal
It is easy to believe that the more fatty tissue liposuction can remove from the body, the better results will be. To attempt this objective could lead to highly unsatisfying effects. If the primary objective is to lose weight, this can only be accomplished with a healthy lifestyle. Liposuction is beneficial when the goal is to refine the shape of the body by removing small deposits of fat that are causing bulges and bumps where they don't belong.
Removing too much fat during liposuction might result in dimpling, lumps, asymmetry, and hollow pockets beneath the skin. Furthermore, the skin may not retract after substantial fat removal the way one expects, and the area from which fat is extracted may look loose and saggy. Finally, it takes more time to extract larger volumes of fat, which increases surgical risks.
Liposuction and weight loss can go together. Dr. Lombardo offers medically-supervised weight loss to help patients reach their goal weight before cosmetic surgery, if necessary. The liposuction procedure is highly personalized to each patient to achieve an outcome that they will love for many years. To learn more about this cosmetic procedure, call our Rancho Mirage office at (760) 610-8990.
Posted in: Liposuction
Leave a response