Body Contouring: Now May be your Best Opportunity for a Bikini Body
Posted on: Nov 15 2017
By: editor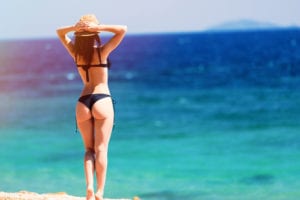 Curves. We want them, so long as they are in the right places. As you may know, body types vary widely from person to person, which means curves are not a given. As we age, as well, the way our body changes may lead to feelings of dissatisfaction and frustration. There are several instances in which a bit of body contouring makes perfect sense.
Often, when we think about improving body shape, it is just before bikini season. Even if you aren't the bikini-type, you may find yourself longing for slimmer thighs or a flatter stomach as summertime approaches. What many people miss is what it takes to reach the outcome from surgical procedures like liposuction and abdominoplasty. It takes time. Sometimes months. For this reason, we say that now is a great time to start thinking about summer.
When you schedule body contouring treatment during the slow, colder months of the year, you benefit from:
Easy cover-up. Keeping the body under wraps during the hot desert summer can be nearly impossible. But most patients also don't want to display the bruising and swelling that occurs after cosmetic surgery. It is the slimmer, more toned physique that wants to be revealed! To get through the post-surgical period without much stress, a wintertime surgery seems ideal. At this time, there is no rush to get into shorts and tank tops so that healing can occur in its own time, without a sense of urgency.
More "me time." Liposuction, abdominoplasty, and any surgery means a short recovery time. The initial recovery period may only be a week or so, but this is a time when you want as little distraction as possible. Prescription pain medication and the physical toll of surgery may mean you need extra sleep. Less movement is likely to occur, which means you need more help around the house. Because summertime is a time of activity for kids and families, body contouring may be most advantageous during the school year, when alone-time is easier to find.
Cooler weather means less UV exposure. We are serious about our sun protection here in sunny Southern California, but a little extra attention may be necessary after cosmetic surgery. Sun exposure to scars may inhibit optimal healing, meaning scars may be more visible. Therefore, sweater season is a great season for attending to your cosmetic needs.
Learn more about getting the shape you want. Call our Rancho Mirage office at 760.610.8990.
Posted in: Body Contouring
---
Leave a response