Tummy Tuck in Yucca Valley

The Tummy Tuck, or abdominoplasty, procedure is one of the most sought-after surgical requests. There are a lot of reasons why your tummy might not look as great as is did years ago – weight changes, pregnancy, even hernias can alter the shape and overall appearance of the mid-section. Often the tummy procedure is combined with a breast procedure: we call this a "Mommy Makeover". Even when we address the stomach area alone there are several different techniques available. As always, an in-person consultation is the best way to have all your questions answered, but here is an overview of the most common points.

The Tummy Tuck Procedure
There are a few different techniques for doing a Tummy Tuck but most involve an incision in the "Bikini Line" that usually extends from hip-bone to hip-bone. Very often we need to "move the belly button" so that the skin in the upper abdomen can be pulled to create a smooth and flat result. Sometimes we include liposuction with the procedure so that we can thin any areas that have an abundant layer of fat, this results in an even more enhanced contour.
Avelar Tummy Tuck – Before & After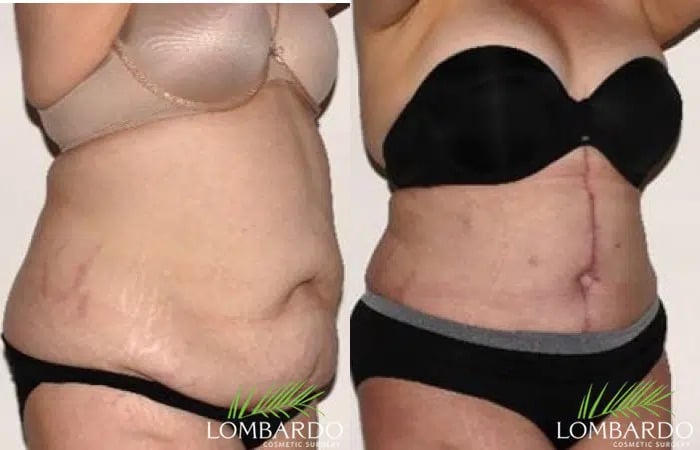 View More Before And After Photos
Tummy Tuck Recovery
It will vary depending on which type of Tummy Tuck is done but most people will need 2-3 weeks off from work. During the first week, pain medication is often required but you will be up and walking. Most people wean off medication during the second week. The third week is when you begin feeling better but still need to be cautious to not over-do things. The post-surgical compression garment is worn for 3 full weeks. Return to all regular activities is typically after 6 weeks.
What People Say About Us!
"I had two surgeries with Dr. Lombardo and I am completely satisfied with her work and I would not hesitate to recommend Dr. Lombardo to family, friends, and others. Dr. Lombardo is very personable, professional, and caring. I was especially pleased with Dr. Lombardo's follow-up to insure that I was doing okay after surgery and to make sure I was healing properly."
Click here to read more reviews.
Cost of Tummy Tuck
The typical price range of a tummy tuck is $7500 – $9000. For more specific information, schedule your free consultation today!
Contact Lombardo Cosmetic Surgery in our Yucca Valley office today to learn more about the tummy tuck procedure.