We Care About Your Skin, Too!
Posted on: Oct 15 2017
By: editor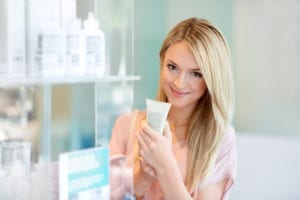 Skincare isn't something you might expect your cosmetic surgeon to be concerned with, but we are. Dr. Lombardo and our team understand that beauty is more than skin-deep. We understand that what is reflected on the outside begins on the inside, with healthy practices. You may be putting a great deal of effort into your daily regimen, but there are certain simple steps that can take it to the next level.
When the goal is to bring out the best in your skin, it's best to start with a clean slate. This means more than washing debris from the surface. There is much more on your skin, and it could be standing in between you and a radiant glow. The skin cells that are supposed to slough off typically don't, at least not completely. When this layer of cells and oil and dirt adhere to the skin, very little can get through, including your expensive skincare products. To start with a fresh slate, schedule a chemical peel or microdermabrasion with our experienced esthetician.
Step 2: Rebuild from the Ground Up
To restore optimal health and beauty to the skin may take a bit of time. To expedite results, make sure your skin is receiving the nutrients that are needed for regeneration. Did you know that commercial skincare products are only effective at the uppermost layer of the epidermis? For real results, it is necessary to go deeper, where cells create collagen and also hold damage from UV exposure. To go deeper, it is necessary to use medical grade skincare products. Most of the products that are used today, such as the SkinMedica line, are as affordable as the high-end skincare you might find at Sephora. The difference is that medical grade products are more strongly concentrated in active ingredients.
Step 3: Protect What You've Got
UV exposure is one of the fastest ways to break down healthy, attractive skin. Sunscreen is not a summertime thing; it is a year-round thing. Daily application of a quality zinc oxide sunscreen means far less exposure to UV radiation from the sun and far more time with healthy skin.
We offer several esthetician services including facials and microdermabrasion in our Rancho Mirage office. To learn more, or schedule your visit, call 760-610-8990.
Posted in: Skin Care
Leave a response