Banana "Ice Cream"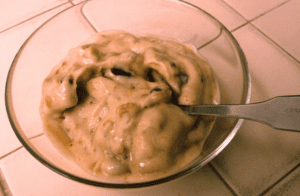 Banana "Ice Cream"
2 bananas, sliced & frozen
½ tsp sea salt
1 T agave nectar or honey, optional
¼ cup pecans
Let bananas thaw slightly so they will blend in the food processor. Combine bananas, salt and agave or honey in the food processor and blend to creamy. Add pecans and pulse chop to blend into ice cream. Eat immediately – can return to freezer but will freeze pretty solid so you might as well eat it all!
Posted in: Paleo Cooking
Leave a response