Teleworking and Self-Esteem: We See the Connection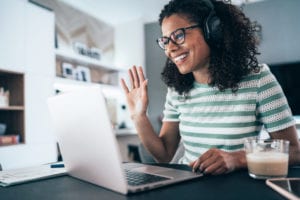 As a result of the novel coronavirus that dominated most of the previous year, people around the world have adjusted to a new normal of telework. In addition to navigating a new workflow and methods of communication with colleagues, workers also faced an unexpected change: seeing themselves on a screen nearly every day. No one could predict how this aspect of working from home might affect a person's self-esteem. We're still discovering that link.
Videoconferencing: The Game Changer in the World of Aesthetic Medicine
Throughout 2020, we began to shift to online communication in profound ways. FaceTime calls and Zoom meetings allowed us to keep in touch with coworkers as well as friends and family. You have probably noticed what happens on these calls. As much as you try to focus on everyone else on the screen and find the right position to make "eye contact" as best you can, you inevitably find yourself looking at your own image. It is this shift in communication that has contributed to the vast increase in surgical and nonsurgical beauty treatments that have occurred in the last eight to ten months.
Looking at your reflection more often, you may have started to notice things you hadn't seen before. It could be the puffiness under your eyes or the slight curve of your nose. For many people, 2020 was the year that they realized how aging had affected their cheeks and jawlines. Some of the cosmetic concerns people are noticing are new. Most have been there for some time but just weren't apparent because, well, we don't typically stare at ourselves for hours on end.
While there are perks to working from home and having more time in our own spaces, many people are also feeling diminished self-confidence as a result of seeing their "flaws" every day. Once we see them, we cannot unsee them. However, we can do something about the lines, creases, and sagging. When we do, we've also done something for our self-esteem.
Dr. Lombardo offers several rejuvenating procedures and treatments in our comfortable Rancho Mirage office. If you are ready to love what you see on the screen and in the mirror, we can help. Contact us at (760) 610-8990 to discuss how a personal treatment plan can bring out your best side.
Posted in: Practice News, Telemedecine
Leave a response