Botox: Is it Time?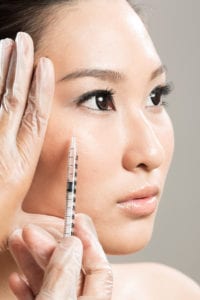 More than 7 million people in the United States underwent at least one Botox treatment last year. According to statistics, there was a 4% increase in the number of Botox treatment just from 2015 to 2016. If you're not a part of this group of anti-agers, you may feel like you've missed out on something. At the same time, you may be holding back, feeling apprehensive. We understand!
There are a few reasons given for sitting on the sidelines when it comes to Botox:
Not interested in reducing lines and wrinkles.
Lines and wrinkles have not become bad enough to treat just yet.
Not sure about injecting a neurotoxin into a sagging brow or frown lines, even though the safety record for Botox has been consistently high since 2003.
Never heard of Botox.
It's difficult to believe that someone hasn't heard of Botox or other non-surgical anti-aging treatments, but it happens! Even if you're not familiar with this method of treatment, and even if you feel like there is no reason to get Botox treatment yet, we have important information that you want to know.
How it Works
Botox has been called a Wonder Drug because it significantly reduces the appearance of age on different parts of the body. This product is also commonly used to treat migraines, and now is being used to minimize the effects of bruxism (tooth grinding). Cosmetically speaking, common areas treated with Botox include:
Crow's feet, or laugh lines around the eyes
Worry lines, horizontal creases on the forehead
Frown lines, vertical lines between the brows
Drooping brow line (which makes the upper eyelids heavy)
Dimpled chin
Neck creases
The mechanism, though quite wonderful and seemingly miraculous, is really simple. Botox is classified as a controlled neuromodulator. This means that it inhibits the activity of nerves, decreasing reactivity to stimulation. Botox stands between nerve endings and brain synapses that cause the muscle to contract. This is why the product is so good at stopping migraines – and wrinkles.
In addition to treating existing lines and wrinkles, a new trend has developed in the world of Botox: proactive treatment. Younger patients realize that, with minimally invasive treatment conducted every so often, it is possible to maintain younger-looking skin for a longer period. So much for the idea that it's not the time for Botox!
Learn more about the benefits of Botox by scheduling your treatment in our comfortable Rancho Mirage office. Call 760-610-8990.
Posted in: BOTOX® & Facial Fillers, Non-Surgical Procedures
Leave a response