What Influences Choice in Breast Implant Size?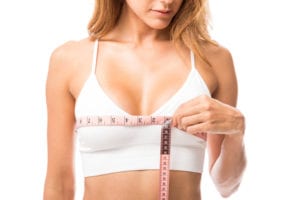 Over the past few decades, millions of women have enhanced their shape with breast implants. Throughout such a substantial period of time, we've seen trends come and go. Much like fashion, hair, and makeup, society goes through cycles of what is considered attractive in terms of physical shape. This occurred long before breast implants were ever developed. Once women had the option of enlarging small breasts, their choices were often a reflection of wider societal trends. We had a period of seeing obviously augmented breasts, then a period of women choosing implants that would increase only about one cup size. Now, we're seeing the trend change once again to larger breast implants. There are theories as to why.
Contributing Factors to Breast Implant Size
One of the suggestions that women hear time and time again is to make their final decision about breast augmentation completely for themselves. There is little to no benefit at all of changing one's shape to please another person or to fit a perceived norm of attractiveness. Still, women inherently face certain influences.
Other Women
Women may be influenced by other women in one of two ways. First, they hear from those that they know that getting larger breast implants is a good idea. Women who have had breast augmentation and chose a smaller size do often say they would like to go larger. This happens over time because they get used to their new shape. It doesn't mean that larger breasts are right for every woman.
The influence of other women happens directly, as discussed, and it also happens indirectly. Women become familiar with all kinds of trends through various types of media. When looking at clothing in magazines or other media, women are subconsciously taking in details that include the models overall shape. When larger-breasted women are featured more frequently, we see more interest in larger breast implants.
More Information
Another factor that influences women's choices is information. Twenty years ago, it was not a general practice for breast augmentation patients to work with various sizes. There were no "sneak peeks" to speak of. A woman chose breast implant size through discussion alone. Now, women get to see what they would look like with larger breasts, so they are more empowered to choose a size that suits them well.
Learn More About Breast Augmentation
Breast implant size is one of the most important factors in a satisfying surgical outcome. It is possible to go too big. Care must be taken to consider all aspects of living with breast implants. A skilled cosmetic surgeon can help. To see how breast augmentation can work well for you, schedule a consultation with Dr. Maria Lombardo in our Rancho Mirage office.
Posted in: Breast Augmentation
Leave a response