Breast Augmentation and Lift for the Perfect Pair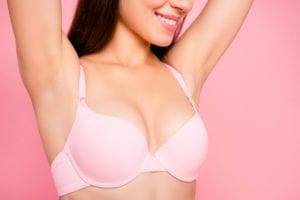 Breast shape and size are important matters to many women. As life would have it, the appearance of the breasts is bound to change over time. This is not some cruel joke played by Mother Nature; it is a simple aspect of being human. Luckily, the medical community has developed ways to manage just about every aspect of appearance when we feel dissatisfied with what is. Breast augmentation is one of the most popular ways that women revamp their look. However, there is more that needs to be addressed in some cases. This is where a breast lift can come in to save the day.
When a Combination Approach Makes Sense
Breast augmentation surgery alone can do wonderful things for a woman's shape. The insertion of well-sized breast implants can add volume and beautiful shape where it has either degraded or never existed. This is the intent of augmentation as well as the limitation of the technique. If a woman's breasts have started to sag at all, breast augmentation alone is not likely to achieve the best possible result. Combining the augmentation with a lift enhances all aspects of the breasts, including their position on the chest wall. What good is it to have shapely, voluminous breasts if they sag significantly below the breast crease?
Two Techniques, One Procedure, Many Benefits
There is something to be said for combining plastic surgery procedures. Doing so prevents the patient from having to undergo anesthesia twice. A single procedure with two techniques also lowers the amount of downtime that is needed. When addressing the characteristics of the breasts with a lift and augmentation, the surgeon also has the ability to bring the greatest amount of symmetry to the appearance of the breasts as they relate to the overall body frame.
Learn more about Breast Lift and Breast Augmentation
Dr. Lombardo incorporates the artistry and skillful technique that patients need to obtain their desired result from plastic surgery. To learn more about the benefits of combining a breast lift with your breast augmentation, schedule a consultation in our Rancho Mirage office. Call (760) 610-8990.
Posted in: Breast Augmentation
Leave a response