Why People Are Hopping Off the Fence and Getting BBL Surgery
Posted on: Sep 30 2021
By: editor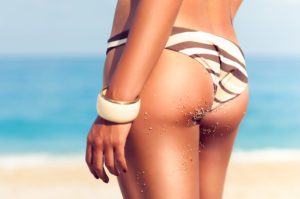 When we talk about contours and perkiness, we often think of the breast area. However, great body proportions include curves that offset and play off of one another. Where there is contour in the chest area, there should also be contour in the backside. This doesn't come naturally for everyone. That's why, over time, doctors have developed ways to augment the buttocks similarly to how they augment the breasts. Today, buttocks augmentation using the Brazilian Butt Lift technique is one of the most popular cosmetic procedures. Here, we discuss why.
Brazilian Butt Lift Surgery is a Streamlined Procedure
BBL surgery does require extensive knowledge and training to perform safely and successfully. It isn't enough for the doctor to know how to perform liposuction. They must also know where to inject the purified fat cells. To perform the Brazilian Butt Lift, Dr. Lombardo carefully extracts fat cells from one or more areas of the body where there is fat to spare. The extracted material is then processed to separate pure fat from other liquids. This process of decantation and separation provides her with the very best substance for volume increase.
Improved Overall Appearance
The fact that the Brazilian Butt Lift works via fat cells taken from the patient's body lends to a more profound cosmetic impact. Liposuction is often performed on an area such as the thighs, abdomen, or lower back. Due to the proximity of these areas to the buttocks, the end-result of surgery can be wonderfully dramatic.
In addition to creating a beautifully sculpted body, the Brazilian Butt Lift is also advantageous because it produces results that look and feel natural. This is a benefit of using fat cells rather than silicone buttocks implants. After obtaining and purifying fat cells, Dr. Lombardo meticulously injects small amounts of fat into precise areas to create a fuller, more lifted shape. While some of the injected fat could get absorbed, the fullness achieved with BBL surgery is permanent.
Effective and Also Safe
All procedures that break the skin carry some degree of risk. The Brazilian Butt Lift should only be performed by a thoroughly trained and experienced surgeon. This is paramount for safety due to the presence of blood vessels in the deeper layers of tissue. That said, BBL surgery uses a patient's own fat, not silicone implants, so is relatively conservative and has minimal risk of infection. There is no risk of foreign body rejection because no foreign body is used.
Lombardo Cosmetic Surgery in Rancho Mirage is highly sought-after for exceptional care and outstanding results. Contact us today to schedule your consultation for Brazilian Butt Lift surgery.
Posted in: Buttocks Augmentation