Learn the Best Tips for Butt Augmentation Recovery This Summer
Posted on: Jun 30 2023
By: editor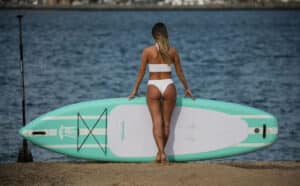 There's nothing like getting a round, firm, and plump derriere after having butt augmentation surgery. There's no question that you'll love the way your backside looks in jeans or a bikini after the procedure. However, you shouldn't jump the gun. It will take time for the fat in your butt to settle and take hold, so you should avoid certain activities that may negatively impact your results. Today, we go over a few butt augmentation recovery tips that you should know if you want to get the most out of your surgery.
The Top 4 Butt Enhancement Recovery Tips
Wear Compression Garments
It is important to wear compression garments or shapewear that are specifically designed for butt augmentation or Brazilian Butt Lift (BBL) post-op recovery. After surgery, your skin and muscles may want to give way. You'll need to hold your form in place by wearing shapewear for a minimum of six weeks. Shapewear should be worn for 24 hours during the first few days post-surgery per your surgeon's orders.
Use a BBL Pillow
You should avoid sitting down on flat surfaces if you can help it. When you sit without placing a cushion underneath yourself, you risk the integrity of the operation. Although there are many cushions you can use, most women who've had butt augmentation surgery will purchase a BBL pillow because it is designed to sit under your thighs and prop up your bottom so that your butt isn't pressing against a hard surface as you sit.
Do Not Exercise Too Soon
You may be tempted to start butt-enhancing exercises immediately after your procedure, but you should avoid light and strenuous exercises until you get the doctor's approval. Exercising too soon may compromise the hold and position of the fat in your butt, resulting in a less-than-desirable shape.
Take Collagen Supplements
Many cosmetic and plastic surgeons recommend taking collagen supplements post-surgery. Collagen will aid in keeping your figure firm, smooth, and soft. It will also help your butt keep its new shape.
See a Butt Augmentation Surgeon at Lombardo Cosmetic Surgery
There's no time like the summer to get that perfect BBL physique that everyone is craving. If you're ready to flaunt a new you and a body to die for, then call Lombardo Cosmetic Surgery at 760-610-8990 to schedule an appointment. We're open Monday through Friday.
Posted in: Uncategorized