September Monthly Special
Posted on: Sep 1 2018
By: editor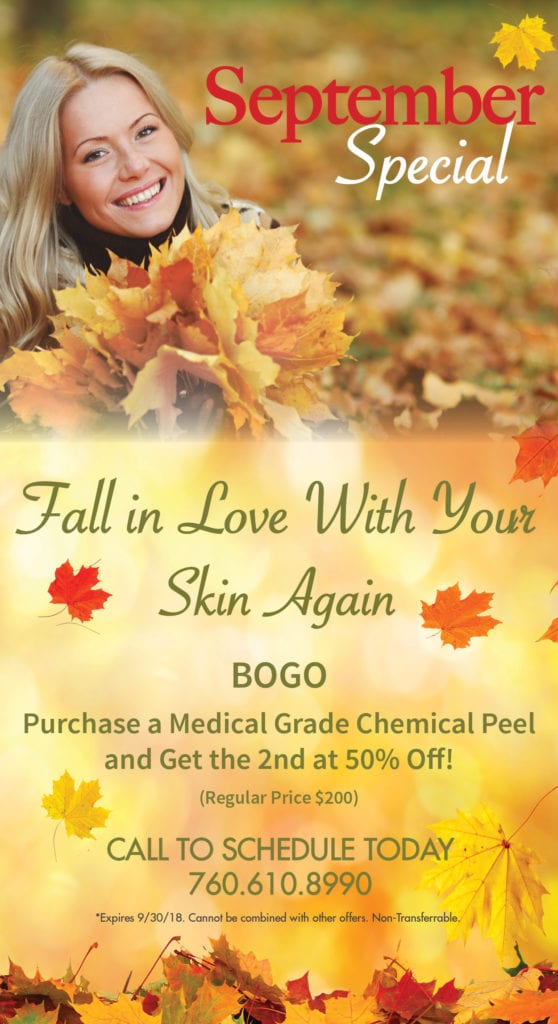 ---
Chemical peels using TCA are appropriate for anyone who wants to:
Combat signs of aging such as fine lines and wrinkles around the eyes and mouth
Treat acne, acne scars and other blemishes
Treat hyperpigmentation, superficial melasma and age spots
---
RECOVERY AFTER TCA CHEMICAL PEEL
---
Medium depth peels have a recovery period of 7 to 10 days, and the results are long lasting.
It is normal for the treated area to dry out and develop a brown crust. This flakes off soon and reveals bright pink skin underneath that gradually fades to your natural skin tone.
Contact Lombardo Cosmetic Surgery for treatment in Rancho Mirage and Yucca Valley today to learn more about chemical peels.
Tagged with: Beauty, BOGO, chemical peel, Medical Grade Peel, monthly special, Monthly Specials, peels, Skin, Skincare
Posted in: Monthly Specials, Non-Surgical Procedures, Skin Care
Leave a response