Introducing Dr. Lombardo's Club Botox
Posted on: Mar 1 2021
By: editor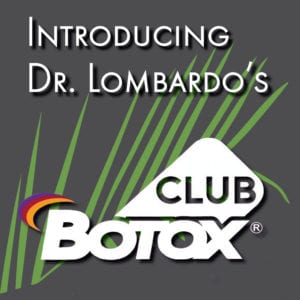 Dear Clients & Friends,
Today we're introducing a new program instead of our regular monthly special. I know that we have offered discounts on the many products and services that we at Lombardo Cosmetic Surgery offer. We wanted to reward those of you who are regular users of Botox.
So let me introduce Club Botox.
I want you to look your best and get rewarded for staying on a regimen of Botox treatments. So here's how it works:
Complete three visits utilizing at least 40 units per visit this year and the 4th regimen is free!
And we're winding back the clock to January 1, 2021 so that if you already had one visit of 40 units or more, you need only complete two more.
Bottom line is that with Club Botox, it's like getting 25% off for the entire year! We want you to look your best. If you haven't made an appointment lately for Botox, call the office today at 760-610-8990. We'll sign you up and help keep you on schedule throughout the coming year so you qualify for the 4th treatment free.
Thank you and we hope to see you soon!
Best,
Dr. Maria Lombardo
*Club Botox cannot be combined with other promotions.
Tagged with: Beauty, Botox, cathedral city, club botox, Fine Lines, La Quinta, monthly special, Monthly Specials, palm desert, palm springs, Prevent Wrinkles, rancho mirage, redlands, wrinkle free, wrinkles
Posted in: BOTOX® & Facial Fillers, Monthly Specials, Practice News
Leave a response