Your Aging Neck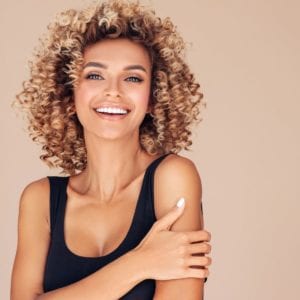 We give so much attention to the aging face, the eyes, jowls, nasolabial folds, and frown lines, that we might forget that there is an area below the chin to consider. The neck is a highly-visible part of the body that is often overlooked until, seemingly overnight, the skin here looks droopy and crepe-like. At that point, usually around middle-age, a person wonders if it's too late to reverse the aging that has robbed them of their slender, firm neck. Here, we discuss some of the reasons the neck needs targeted attention and what they may look like at various stages.
Aging Neck Skin: What's to Blame?
Biology is somewhat to blame for aging neck skin, just as it is involved in facial aging. But there's more. We mentioned that the neck is often overlooked. This area of the body, with fewer oil glands, needs to be pampered in order to avoid dehydration. It also needs to be protected from the sun but often is not. These factors join with the natural decline in collagen and elastin that result in thin, sagging skin. But there's even more.
Since the emergence of smartphones and other portable electronic devices, we've been hooked. Adults of all ages rely on these devices to stay in touch with colleagues, family, and friends. We pay people through our phones, check our emails, check our account balances, and write ourselves notes. One author even revealed they wrote an entire book on their smartphone! Last year, as we grappled with a global pandemic, it is said that people increased their technology usage by 33 to 185%. That is staggering, but what does this have to do with one's neck? A lot. When we look down, we compress the tissue and muscles of the neck beneath about 10 pounds of head-weight. This compression exacerbates sagging and loss of firmness, resulting in what is called "tech neck."
How to Manage an Aging Neck
As with most conditions, prevention is the best medicine. If you are in your twenties or thirties, now is an ideal time to make sure you're applying sunscreen and a moisturizer to your neck every day. It may also be a good time to seek professional services like chemical peels. If you're in your forties or fifties or beyond, these habits are still necessary but are not enough to correct the sagging and fullness that have already developed. In your case, you may want to explore treatments like Kybella to correct a double chin. You may be interested in Renuvion J Plasma skin tightening or, for more severe sagging, a face and neck lift.
Dr. Maria Lombardo greatly enjoys creating more beauty on her patient's faces and bodies. To explore your options for neck and facial rejuvenation, call our Rancho Mirage office at (760) 610-8990.
Posted in: Practice News, Renuvion (J Plasma)